Compare Bear Arena 34 Compound Bow with other bows: See other Compound bows for sale
Bear Arena 34 bow for sale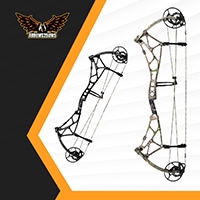 Brace Height: 6.5 "
Axle to Axle Length: 34.5 "
Draw Length: 26.5 " - 31 "
Draw Weight: 50 lbs - 70 lbs
IBO Speed: 340 fps
Weight: 4.0 lbs
Arena 34 reviews
The Bear Arena 34 compound bow is like the big brother of Arena 30. The Arena 34 has all the features of Arena 30 and a slightly bigger size. There are so many adjustments that come in this bow.

The customized settings are geared towards providing you with a personal feel when you are getting ready to shoot.
Things to consider before buying
The Bear Arena 34 comes with a shooting speed of 340 fps, which is slightly lower than the Arena 30. The brace height is the same, at 6.5 inches, while the AtA (axel to axel) length is 34.5 inches. The bow weighs four pounds and feels great in your hands.
Cams
This bow boasts Bear's signature H15 cam system, which provides it with a shooting speed of 340 feet per second. The draw length ranges from 26.5 to 31 inches. You can make adjustments based on 0.5-inch increments.
Riser
The 34.5-inch riser of this bow has exceptional strength and a very unique look as well. There is structural integrity associated with this construction. Just within the limb pockets, it out and takes the load from the riser. This prevents the riser from twisting or turning, which can result in precision flaws. 
Grip
The grip is one of those features of a compound bow that is heavily influenced by personal preferences. Just like the Arena 30, this bow also comes with two grip configurations. One of them is a rubber grip. If you want to go for a slimmer profile, you can go for the rubber inlays.
Who should buy the Bear Arena 34?
Anyone who is looking for a better shooting speed with a large riser and brace height will find this bow very useful. It is suitable to use in the field for hunting.
Who shouldn't buy it?
If you are just looking for a bow to practice target shooting, this might not be the right option for you.
Pros
More personalized feel
Stable shooting platform
Good quality 4-pound bow
Two grip options
Cons
Strings need to be shortened
Final thoughts
This professional-grade compound bow is a great companion for anyone who wants a more personalized feel in their bow.
Video Review
Specifications for the Bear bow: Arena 34
| | |
| --- | --- |
| Brace Height | 6.5 " |
| Axle to Axle Length | 34.5 " |
| Draw Length | 26.5 " – 31 " |
| Draw Weight | 50 lbs – 70 lbs |
| IBO Speed | 340 fps |
| Weight | 4.0 lbs |
| Let-Off | 75% |
3 quick questions about Bear Arena 34
🏹 Are Bear Arena 34 bows any good?
A bow with a great shooting speed.
🏹 How much does a Bear Arena 34 bow cost?
Check quick the price here on the site.
🏹 Do you need a license to own a Bear Arena 34 bow?
Nope
More about bows online
Bear bows for sale
When you establish a lot of bows, you appreciate things that produce the process quick, simple, and foolproof. If you've never employed a compound bow before and don't have any clue where to start, here are a few general guidelines. The bow emerged from the box set at 29 inches. Your Bear bow deserves the very best and we've got a complete field of custom replacement strings to acquire the absolute most out of it. The bow is extremely light weight too. At 350 fps, this is a really quick bow.
The bow certainly resembles a Hoyt with its distinctive riser design. This bow is simple to hold and has a good grip. You can't fail with the majority of bows on the market these days.
[collapse]
https://arrows2bows.com/wp-content/uploads/2019/12/1-300x138.png
0
0
superadmin
https://arrows2bows.com/wp-content/uploads/2019/12/1-300x138.png
superadmin
2019-12-10 12:09:57
2020-02-02 13:23:17
Bear Arena 34 Compound Bow