Compare Bear Approach HC Compound Bow with other bows: See other Compound bows for sale
Bear Approach HC bow for sale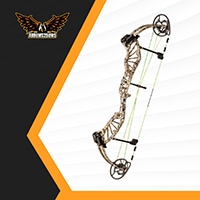 Brace Height: 6 "
Axle to Axle Length: 32 "
Draw Length: 25.5 " - 30 "
Draw Weight: 45 lbs - 70 lbs
IBO Speed: 340 fps
Weight: 4.0 lbs
Approach HC reviews
If you are looking to up the ante a bit from the Bear Approach, you need to go for the Bear Approach HC bow. This bow is suitable for people who want to sharpen their shooting skills and are looking to shift from target shooting to hunting.
Things to consider before buying
This compound is both suited for hunting and target shooting. The bow has a shooting speed of 340 feet per second. With 32-inch axel-to-axel length and an overall weight of four pounds, adults with intermediate skills can use it with ease.
Finish
This bow also comes in two patterns like most of the bows from Bear. You might not be too impressed with that but the limited number of pattern options won't disappoint you.
The "Badland" and "Realtree Edge" are two patterns. The limbs of the bow are "Camo" and they match with the riser. The branding stickers are not that big either. The string has a loud green color, adding to the interesting image of the rig.
Eccentric system
This bow comes with a high-quality cam system hybrid. It provides you draw length that ranges between 25.5 and 30 inches, with 0.5-inch increments. This system gives a let-off of 75%, which keeps the weight of the bow light.
Draw cycle
In this price range, the draw cycle of this bow is exceptional.  The bow feels very smooth in your hands and you won't have to put in much effort while using it. Upfront, the draw will start a bit stiff but it will then transition through the let-off seamlessly.
Who should buy the Bear Approach HC?
If you have some experience with hunting bows and are looking to transition from target practice to hunting, this is the right bow for you.
Who shouldn't buy it?
This bow is not the ideal option for the beginners. If you are new to archery then it is better for you to pass on this bow.
Pros
Shooting speed of 340 fps
Good for shooting small game at close range
Equally good for target practice
Cons
Final thoughts
The Bear Approach HC is an excellent option for people who have experience with archery and are looking to improve their skills in hunting.
Video Review
Specifications for the Bear bow: Approach HC
| | |
| --- | --- |
| Brace Height | 6 " |
| Axle to Axle Length | 32 " |
| Draw Length | 25.5 " – 30 " |
| Draw Weight | 45 lbs – 70 lbs |
| IBO Speed | 340 fps |
| Weight | 4.0 lbs |
| Let-Off | 75% |
3 quick questions about Bear Approach HC
🏹 Are Bear Approach HC bows any good?
Yes, it is a good bow. Not perfect for a beginner though. If you are a beginner, look at our beginners guide.
🏹 Who owns Bear Approach HC bows?
Escalade Sports bought North American Archery Group in 2003 and currently does business as Bear Archery Inc.
🏹 What type of bow is a Bear Approach HC bow?
It is a compound bow great for hunting.
More about bows online
Bear bows for sale
The exceptional form of the limb makes a dependable load distribution. To make sure we meet your requirements, we still require information regarding your particular bow. This allows for a higher power stroke and, consequently, better speeds. Thus, it doesn't incorporate a sight, an arrow rest, or a stabilizer and so, those will have to be purchased separately. This bow truly is a superb mixture of speed and smooth draw. If you would like a bow that's buttery smooth and simple to draw while still being rocketship fast, we will inform you just what you want to understand. No other bow provides the ultra-smooth draw in one cam system along with the power of the EnduraFiber Limbsfor such an undeniable price.
[collapse]
https://arrows2bows.com/wp-content/uploads/2019/12/1-300x138.png
0
0
superadmin
https://arrows2bows.com/wp-content/uploads/2019/12/1-300x138.png
superadmin
2019-12-11 08:09:57
2020-02-02 13:22:13
Bear Approach HC Compound Bow