Compare Bear Agenda 7 Compound Bow with other bows: See other Compound bows for sale
Bear Agenda 7 bow for sale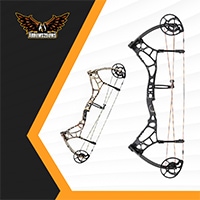 Brace Height: 7 "
Axle to Axle Length: 32 "
Draw Length: 26.5 " - 31 "
Draw Weight: 40 lbs - 70 lbs
IBO Speed: 340 fps
Weight: 4.0 lbs
Agenda 7 reviews
The Bear Agenda 7 Compound Bow has an optimal brace height and fast IBO speed. It is adjustable, quiet and stable.
Things to Consider Before Buying
The Bear Agenda 7 has locking system limb pockets, which will not move on the draw, ensuring there are no creaks.
This is a highly adjustable bow with a draw weight that can be scaled down to 40 from 70 pounds, a draw length range of 26.5 to 31 inches, a 7-inch brace height and a 76% let-off.
The silencing package of this bow features a pair of string suppressors that are bi-dimensionally adjustable. This ensures the Agenda 7 is super-quiet.
It comes with H13 cams with rotating modules for easy configuration, which means it offers tool-free draw length adjustment.
It has Bear hinge guard, which takes away all the torque on the draw, improving stability and shot accuracy.
Compared to the Bear Agenda 6, the Bear Agenda 7 has a more forgiving brace height and a slightly longer peak draw length.
The Bear Agenda 7 Compound Bow is a suitable choice for you if you're looking for an optimal brace height and an ultra-quiet design.
Pros:
Limb pockets don't move on the draw
Adjustable string suppressors ensure the bow is quiet
Hinge guard eliminates torque to improve stability
Two-piece grip is highly versatile
Tool-free cam adjustment
Cons:
Let-off is not adjustable
Only suitable for right-handed archers
Conclusion
The Bear Agenda 7 Compound Bow has an optimal brace height that is forgiving, without sacrificing on speed. If you are an elite archer, you need speed to hit your target with precision. This is the ultimate hunting gear with its optimal brace height, high-performing H13 cams and the adjustable string suppressor system.
Video Review
Specifications for the Bear bow: Agenda 7
| | |
| --- | --- |
| Brace Height | 7 " |
| Axle to Axle Length | 32 " |
| Draw Length | 26.5 " – 31 " |
| Draw Weight | 40 lbs – 70 lbs |
| IBO Speed | 340 fps |
| Weight | 4.0 lbs |
| Let-Off | 75% |
3 quick questions about the Bear Agenda 7
Are Bear Agenda 7 bows made in America?
Yes, they are made in Florida.
Who owns Bear Agenda 7 bows?
Bear Archery is a manufacturer located in Gainesville, Florida owned by Escalade Sports.
More about bows online
Bear bows for sale
At first sight it appears pretty simple, but there are indeed a couple of things you want to stay in mind when buying them. Leading the way about them in 2014 might be the new Agenda 6. The idea, just like similar designs that change the place of the cables throughout the shot cycle, is to decrease torque.
[collapse]
https://arrows2bows.com/wp-content/uploads/2019/12/1-300x138.png
0
0
superadmin
https://arrows2bows.com/wp-content/uploads/2019/12/1-300x138.png
superadmin
2019-12-03 12:09:57
2020-02-02 13:18:08
Bear Agenda 7 Compound Bow