Compare Bear Moment Compound Bow with other bows: See other Compound bows for sale
Bear Moment bow for sale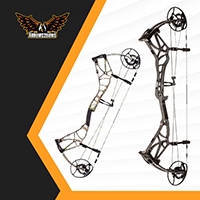 Brace Height: 6 "
Axle to Axle Length: 31 "
Draw Length: 25 " - 30 "
Draw Weight: 45 lbs - 70 lbs
IBO Speed: 340 fps
Weight: 4.0 lbs
Moment reviews
The Bear Moment is fast, quiet, compact, and forgiving. It delivers performance far beyond most expectations. It combines high performance and fluid motion, for a versatile bow that will satisfy a wide range of hunters.
Bear Moment Overview
The Bear Moment is compact and lightweight, making it a great choice for great maneuverability in dense bush and close quarters. It delivers high-speed shots that are whisper quiet, with excellent aiming and comfortable use.
The adjustable dual position SonicStop string suppression system controls vibration and oscillation, working with Sonic Knots on the string and dampeners on the limbs to make the Bear Moment incredibly quiet. Bear's EZ Cam system is a hybrid cam with a smooth draw, easily adjustable draw length, and 80% let-off, the cam gives this bow great power and performance.
The Max Preload Quad limbs are made of Gordon Glass for exceptional durability, with a machined belly that distributes pressure evenly to reduce limb stress and transfer extra energy to every shot. The near-net forged aluminum riser is incredibly strong while remaining lightweight and maneuverable.
The Moment's Narogrip is thin and flatter than other Bear grips, for enhanced comfort.
Pros
Compact and lightweight for great maneuverability in cover
Extremely fast and quiet
80% let-off for additional forgiveness and accuracy
Durable materials for years of use
Narogrip is incredibly comfortable
Smooth action throughout the draw length
Cons
Slight vibration after the shot, which many people address with a stabilizer
Draw cycle can be a bit stiff at the beginning
Many people wish for more color and pattern options
Conclusion
The Bear Moment is an incredibly popular bow from Bear, with the innovations and improvements that hunters have come to expect from the brand. It's designed for hunting, and the shorter 31-inch frame and light weight make it highly maneuverable in the field. The cam system has a high let-off and easy adjustability for great smoothness and accuracy. It's whisper-quiet and incredibly fast, with an excellent grip and durable materials that have made it a favorite. The Bear Method is a bow that shooters will love in the field.
Video Review
Specifications for the Bear bow: Moment
| | |
| --- | --- |
| Brace Height | 6 " |
| Axle to Axle Length | 31 " |
| Draw Length | 25 " – 30 " |
| Draw Weight | 45 lbs – 70 lbs |
| IBO Speed | 340 fps |
| Weight | 4.0 lbs |
| Let-Off | 80% |
3 quick questions about Bear Moment
🏹 How much does a Bear Moment bow cost?
At the moment you can get it for around 900. Check the the current prices here on the page.
🏹 Do you need a license to own a Bear Moment bow?
No
More about bows online
Bear bows for sale
The bow certainly resembles a Hoyt with its distinctive riser design. It also comes in a number of finishes with the most popular finishes being RealTree Xtra camo as well as shadow, sand and olive. Bear's whitetail hunter compound bow is quite a versatile bow that is chiefly liked and used by the hunters due to its attractive capabilities.
[collapse]
https://arrows2bows.com/wp-content/uploads/2019/12/1-300x138.png
0
0
superadmin
https://arrows2bows.com/wp-content/uploads/2019/12/1-300x138.png
superadmin
2020-01-02 12:09:59
2020-02-03 19:04:57
Bear Moment Compound Bow