Compare Bear Crux Compound Bow with other bows: See other Compound bows for sale
Bear Crux bow for sale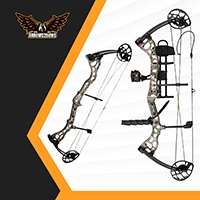 Brace Height: 7.5 "
Axle to Axle Length: 30.625 "
Draw Length: 25.5 " - 30.5 "
Draw Weight: 40 lbs - 70 lbs
IBO Speed: 320 fps
Weight: 4.0 lbs
Crux reviews
With a decade of bow hunting experience with a long axle-to-axle bow, I am still not able to maneuver the huge bow of mine on a tree stand or a blind.

The Bear Crux Compound Bow might be just what I need to explore my new hunting aspirations. It's compact, fast, highly adjustable and forgiving.  
Things to Consider Before Buying
With the Bear Crux Compound Bow, you get the speed performance of 320 feet per second of the hybrid A-Cam system.
You can effectively adjust this cam system from 26 to 30.5 inches. It also features a rotating module setup that allows you to easily adjust the draw length.
In addition to the impressive maneuverability of 30.625 inches, this bow has a very forgiving brace height of 7.5 inches and a high let-off of 70 percent.
It has a peak draw weight at 50, 60 and 70 pounds. This model is available as a bow-only option or as a ready-to-hunt package.
When compared to the Bear Species LD, the Bear Crux is more lightweight, has a faster IBO speed and has a more forgiving brace height.
This is a great choice, if you are looking for a bow that is built for speed, with a very short valley.
Pros and Cons
Pros:
Hybrid cam system delivers fast IBO speed
Easy to adjust draw length positions
Forgiving brace height makes it comfortable to shoot
Compact design is suitable for tree stands and blinds
Cons:
Slightly heavy considering that it is a compact bow
Draw length may be too short for some shooters
Final Thoughts
You can have a bow that is very comfortable to shoot because it has a long valley, but its maneuverability won't be ideal. That's why a bow like the Bear Crux compound bow could be a good choice for you. It provides you with an easily adjustable cam system, a very forgiving brace height and fast arrow speeds.
Video Review
Specifications for the Bear bow: Crux
| | |
| --- | --- |
| Brace Height | 7.5 " |
| Axle to Axle Length | 30.625 " |
| Draw Length | 25.5 " – 30.5 " |
| Draw Weight | 40 lbs – 70 lbs |
| IBO Speed | 320 fps |
| Weight | 4.0 lbs |
| Let-Off | 75% |
3 quick questions about Bear Crux
🏹 Are Bear Crux bows made in America?
Bear Archery is located in Florida.
🏹 Who owns Bear Crux bows?
Escalade Sports own Bear Archery.
More about bows online
Bear bows for sale
In order to avoid injury and make sure correct shooting strategies, it's crucial to be in a position to keep the bow fully drawn for at the very least a minute without shaking and also to draw the compound bow smoothly at any instant of the entire draw cycle. Generally speaking, compound bows are popular in target practice and hunting. The compound bow side-by-side comparison chart below can help you discover the ideal compound bow for your demands.
[collapse]
https://arrows2bows.com/wp-content/uploads/2019/12/1-300x138.png
0
0
superadmin
https://arrows2bows.com/wp-content/uploads/2019/12/1-300x138.png
superadmin
2019-12-16 12:09:58
2020-02-02 13:34:49
Bear Crux Compound Bow