Compare Bear Kuma Compound Bow with other bows: See other Compound bows for sale
Bear Kuma bow for sale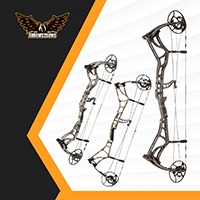 Brace Height: 6 "
Axle to Axle Length: 33 "
Draw Length: 25.5 " - 30 "
Draw Weight: 45 lbs - 70 lbs
IBO Speed: 345 fps
Weight: 4.3 lbs
Kuma reviews
As a hobbyist hunter and archery lover for years, I am always looking for an archery bow that offers more than just speed. Many products in the market focus so much on the speed that they often overlook another important aspect; comfort. For quite a while, I struggled to find a compound bow that met my performance needs with good speed and construction quality, but also ensured comfort as I used it or carried it around with me. This was when the Bear Kuma Compound Bow came out as the best possible solution.
Things to consider before buying
Certain qualities and features make the Bear Kuma Compound Bow stand out in the market. The bow is equipped with some outstanding features such as the SonicStops dual string suppressors. Before you deciding on the Bear Kuma, make sure you know its important features and specifications:
Limb dampeners
The limb dampeners of this compound bow minimize the vibration and the impact the user feels. Even at full draw, the limb dampeners will absorb the impact to enable smooth and quiet functioning.
SonicStops
SonicStops work at the point of origination. These work by reducing the vibration within the strings, which not only make the draw very smooth and swift but also help reduce the noise.
VersaGrip and NaroGrip
The bow comes in two types of grip options, Versagrip and NaroGrip. The grip quality of this bow stands out, as it doesn't make your hands sweaty like some other bows do. Plus, the grips also feature a more ergonomic design that fits perfectly in a normal-sized palm.
Hybrid'18 cam system
The H'18 cam system is meant to add more speed to the draw. The benefit of this new advanced cam system is that it ensures high speed along with a smooth draw.
Pros of Bear Kuma Compound Bow
Versatile grip options to offer comfort
Two finish options
Well balanced, even at full draw
Exceptionally quiet functionality
Cons of Bear Kuma Compound Bow 
Slightly pricier than other products
More suitable for professionals and big game hunters
Final thoughts 
The Bear Kuma compound bow marks the rebirth of better and greater quality bear archery products. If you're looking for a compound bow that is an all-in-one package and offers great comfort, convenience and high-quality performance, then this bow is the perfect solution. Used and loved by most archers, this top-notch bow has a versatile range of features that are meant to add great value to your money.
Video Review
Specifications for the Bear bow: Kuma
| | |
| --- | --- |
| Brace Height | 6 " |
| Axle to Axle Length | 33 " |
| Draw Length | 25.5 " – 30 " |
| Draw Weight | 45 lbs – 70 lbs |
| IBO Speed | 345 fps |
| Weight | 4.3 lbs |
| Let-Off | 75% |
3 quick questions about Bear Kuma
🏹 Who owns Bear Kuma bows?
Escalade Sports
🏹 Do you need a license to own a Bear Kuma bow?
No
More about bows online
Bear bows for sale
The bow certainly resembles a Hoyt with its distinctive riser design. It also comes in a number of finishes with the most popular finishes being RealTree Xtra camo as well as shadow, sand and olive. Bear's whitetail hunter compound bow is quite a versatile bow that is chiefly liked and used by the hunters due to its attractive capabilities.
[collapse]
https://arrows2bows.com/wp-content/uploads/2019/12/1-300x138.png
0
0
superadmin
https://arrows2bows.com/wp-content/uploads/2019/12/1-300x138.png
superadmin
2020-02-02 12:09:00
2020-02-02 16:15:48
Bear Kuma Compound Bow