Compare Bowtech BT-X 31 Compound Bow with other bows: See other Compound bows for sale
Bowtech BT-X 31 bow for sale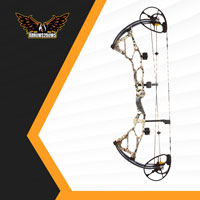 Brace Height: 6.25 "
Axle to Axle Length: 31 "
Draw Length: 27 " - 31 "
Draw Weight: 40 lbs - 70 lbs
IBO Speed: 350 fps
Weight: 4.2 lbs
BT-X 31 reviews
Shooters looking for a silent, adjustable, and compact hunting bow would be wise to keep the Bowtech BT-X 31 compound bow in mind. The Overdrive cams allow for easy tuning, and the addition of the micro sync dial and the Powershift technology are bonuses that make this bow one of the most highly and easily adjustable models on the market. It's got a steep price tag, but with an IBO FPS speed of 350 FPS, it's ideal for big game hunting at respectable distances.
Things to consider before buying
The Powershift technology incorporated into this bow allows shooters to switch between 3 different shooting modes or drawing cycles to find the one which works best for specific needs. There is a comfort setting, a performance setting, and one right in the middle. The Overdrive binary cam system is extremely tunable, and tuning is made much easier and more accurate thanks to the micro sync dial. For shooters looking for a highly tunable and adjustable bow, this is a great choice.
There is an 80% let off, which makes drawing easy, and it's quick to get used to as well. It comes with a max draw weight of 70 pounds, and with the let-off, comes to somewhere around 14 pounds. The compact size of this bow, combined with the fairly forgiving brace height, makes it an ideal hunting bow for shooting out of blinds and tree stands. Shooters should not forget that this bow can produce a whopping IBO speed of 350 FPS.
The Bowtech BT-X 31 compound bow features carbon core split limbs, which are a bit heavy, but also very durable, reliable, and stable. The limbs come in 40, 50, 60, and 70 pound draw options. This bow features a standard Bowtech grip with a slightly tapered handle. It is a thick grip that takes some getting used to, but is fairly comfortable overall. What's also neat here is that this bow comes in a number of finishes.
Pros
Good for tine tuning
Easy to adjust draw length
Compact size with a forgiving brace height
Ideal for hunting out of blinds and tree stands
Very durable limbs and riser
Very high FPS
Cons
A bit heavy
Somewhat pricey
Not ideal for beginners who don't need fine tuning abilities
Final thoughts
For any archer who has a few extra dollars to invest in a premium hunting bow, the Bowtech BT-X 31 compound bow makes for a fine choice. With many different adjustment and easy tuning capabilities, an insanely high FPS rating, and a compact design perfect for hunting, the BT-X 31 is a force to be reckoned with.
Video Review
Specifications for the Bowtech bow: BT-X 31
| | |
| --- | --- |
| Brace Height | 6.25 " |
| Axle to Axle Length | 31 " |
| Draw Length | 27 " – 31 " |
| Draw Weight | 40 lbs – 70 lbs |
| IBO Speed | 350 fps |
| Weight | 4.2 lbs |
| Let-Off | 80% |
3 quick questions about Bowtech BT-X 31
Are Bowtech BT-X 31 bows any good?
How much does a Bowtech BT-X 31 bow cost?
What type of bow is a Bowtech BT-X 31 bow?
More about bows online
Bowtech bows for sale
The bow certainly resembles a Hoyt with its distinctive riser design. It also comes in a number of finishes with the most popular finishes being RealTree Xtra camo as well as shadow, sand and olive. Bear's whitetail hunter compound bow is quite a versatile bow that is chiefly liked and used by the hunters due to its attractive capabilities.
[collapse]
https://arrows2bows.com/wp-content/uploads/2019/12/1-300x138.png
0
0
superadmin
https://arrows2bows.com/wp-content/uploads/2019/12/1-300x138.png
superadmin
2019-12-03 12:10:02
2020-01-15 14:38:08
Bowtech BT-X 31 Compound Bow