Compare Bowtech HeartBreaker Compound Bow with other bows: See other Compound bows for sale
Bowtech HeartBreaker bow for sale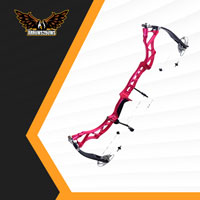 Brace Height: 7 "
Axle to Axle Length: 30.25 "
Draw Length: 22.5 " - 27 "
Draw Weight: 30 lbs - 60 lbs
IBO Speed: 305 fps
Weight: 3.7 lbs
HeartBreaker reviews
Women often struggle with finding the right bows and archery equipment on the market. There is a wide variety of female-friendly bows, but only a few prove to be truly functional and useful. Luckily the Bowtech Heartbreaker compound bow stands out as one of the best and most popular bows for women.
Things to consider before buying
If you are a female archer and are looking for the one product that will solve your hunting problems, then the Bowtech Heartbreaker is a great choice. However, to make sure that your investment doesn't go to waste, you will need to make some important considerations first. Some important features of the Bowtech Heartbreak compound bow, such as its versatile finish options and variety of draw weights, all make up an overall great product. Look at the rest of the details of the specs:
Finish varieties
The Bowtech heartbreaker compound bow is available in a range of finishes, including: a variety of velvet finishes, Mossy Oak breakup finish, pink camo finish, and a customized finish can also be ordered as an extra charge.
Limb design
The bow features an aluminum-made riser, which is designed to be lightweight and efficient. The limbs come with various draw weights ranging from 40, 50, and 60 lbs.
Binary cam system
The advanced, new Binary cam system of the bow features two cam systems that work together in harmony to provide faster and more accurate draws. The system does not ever require you to adjust the draw length.
Dampening system
The Bowtech Heartbreaker bow is really quiet since it features a Dura-flex string dampening system. This system includes both string silencers and trying stops to work together in order to provide smooth and quite bow.
Pros
Highly recommended for female archers
Very little to no vibration
Very quiet
Versatile finish options
Wide range of weight draws to choose from
Cons
Velvet finish is not long-lasting
Final Thoughts 
The Bowtech Heartbreaker compound bow is overall a great product for all types of hunting and shooting occasions. Whether it's for a big game or for beginner level archers, the bow will prove to be hugely functional with its lightweight design, efficiently designed risers and limbs, and an exceptional sound dampening system. It is one of the best solutions for most female archers.
Video Review
Specifications for the Bowtech bow: HeartBreaker
| | |
| --- | --- |
| Brace Height | 7 " |
| Axle to Axle Length | 30.25 " |
| Draw Length | 22.5 " – 27 " |
| Draw Weight | 30 lbs – 60 lbs |
| IBO Speed | 305 fps |
| Weight | 3.7 lbs |
| Let-Off | 65% – 80% |
3 quick questions about Bowtech HeartBreaker
Are Bowtech HeartBreaker bows any good?
How much does a Bowtech HeartBreaker bow cost?
Do you need a license to own a Bowtech HeartBreaker bow?
More about bows online
Bowtech bows for sale
The bow certainly resembles a Hoyt with its distinctive riser design. It also comes in a number of finishes with the most popular finishes being RealTree Xtra camo as well as shadow, sand and olive. Bear's whitetail hunter compound bow is quite a versatile bow that is chiefly liked and used by the hunters due to its attractive capabilities.
[collapse]
https://arrows2bows.com/wp-content/uploads/2019/12/1-300x138.png
0
0
superadmin
https://arrows2bows.com/wp-content/uploads/2019/12/1-300x138.png
superadmin
2019-12-03 12:10:02
2020-01-10 09:16:31
Bowtech HeartBreaker Compound Bow