Compare Bowtech Experience Compound Bow with other bows: See other Compound bows for sale
Bowtech Experience bow for sale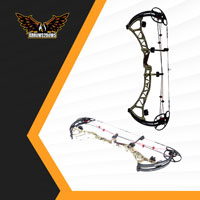 Brace Height: 7 "
Axle to Axle Length: 32 "
Draw Length: 26.5 " - 31 "
Draw Weight: 40 lbs - 70 lbs
IBO Speed: 335 fps
Weight: 4.2 lbs
Experience reviews
For shooters who have a few extra dollars to invest, the Bowtech Experience compound bow makes for a great hunting bow. This bow may not have the most durable finish, but it is a compact and high-speed hunting bow with a high level of easy adjustability. It's a high-performance bow with a relatively high price tag, often considered a fan favorite among experienced and novice hunters alike.
Things to consider before buying
The Bowtech Experience features a forgiving and ideal brace height, and everything in between for a hunter. This model produces an IBO speed of 335 FPS, more than enough power to take down a big animal at a decent range. This is what the binary cam system is designed for — high speed flight and a big impact. What is impressive is how the draw length is highly adjustable without the need for different cams or mods.
With various draw weights available, and the ability to adjust the draw weight without a bow press, not to mention a let-off of 80%, this bow is very easy to adjust and to draw. Moreover, the Bowtech Experience provides a very smooth and even draw, plus a fairly solid back wall. Here, when a shot is fired, there is virtually no noise produced, and even less hand shock and vibration – another ideal feature for hunting.
The Bowtech Experience compound bow features CPX limb tech designed to provide very accurate shooting. It also comes with an adjustable grip, designed to produce proper hand placement. This bow is slightly heavier than many others, but not so much that it's a deal-breaker. Its compact design makes it highly portable and perfect for hunting needs. It is a bit expensive, but with the high price tag comes high performance.
Pros
Super easy to adjust draw weight and length
Exceptionally quiet and vibration free
Superior durability
Excels at hunting
High IBO speed with plenty of stopping power
Very accurate
Smooth draw
Cons
Big price tag
The finish peels off easily
Final thoughts
For any hunter looking for a high-speed, smooth-draw, accurate, and overall reliable compound bow, the Bowtech Experience is a spectacular choice to consider. It might be expensive, but there are not many others that can match its performance model.
Video Review
Specifications for the Bowtech bow: Experience
| | |
| --- | --- |
| Brace Height |   |
| Axle to Axle Length |   |
| Draw Length |   |
| Draw Weight |   |
| IBO Speed |   |
| Weight |   |
| Let-Off |   |
3 quick questions about Bowtech Experience
Are Bowtech Experience bows made in America?
Who owns Bowtech Experience bows?
Do you need a license to own a Bowtech Experience bow?
More about bows online
Bowtech bows for sale
The bow certainly resembles a Hoyt with its distinctive riser design. It also comes in a number of finishes with the most popular finishes being RealTree Xtra camo as well as shadow, sand and olive. Bear's whitetail hunter compound bow is quite a versatile bow that is chiefly liked and used by the hunters due to its attractive capabilities.
[collapse]
https://arrows2bows.com/wp-content/uploads/2019/12/1-300x138.png
0
0
superadmin
https://arrows2bows.com/wp-content/uploads/2019/12/1-300x138.png
superadmin
2020-01-17 12:10:02
2020-01-18 15:42:26
Bowtech Experience Compound Bow