Compare Bowtech Fanatic 3.0 Compound Bow with other bows: See other Compound bows for sale
Bowtech Fanatic 3.0 bow for sale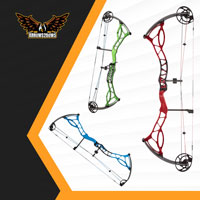 Brace Height: 7 "
Axle to Axle Length: 37.75 "
Draw Length: 24 " - 29 "
Draw Weight: 30 lbs - 70 lbs
IBO Speed: 320 fps
Weight: 4.7 lbs
Fanatic 3.0 reviews
When it comes to target archery, the Bowtech Fanatic 3.0 compound bow is one of the best in the business. It may be heavy, but this weight also allows for greater stability, and all things considered, it produces a formidable IBO speed. It comes with Powershift tech and an Overdrive binary cam system, both of which allow for extreme and easy adjustability. The bow itself is a bit pricey, but it is competitively priced, especially considering the plethora of features it comes with.
Things to consider before buying
The Bowtech Fanatic 3.0 features an Overdrive binary cam system designed for adjustability. Adjusting the draw length does not require any special tools. With the cams, shooters can choose from a triangle or round draw stop, and the draw stop is adjustable. Shooters can choose a let off of 65% or 80%, which is also easily adjustable. With a max IBO speed of 320 FPS, it's slightly faster than the previous version, the Fanatic 2.0.
Of course, the standout feature here is the Powershift tech, which allows shooters to customize the draw cycle for comfort, speed, or a mix of both. Overall, this bow draws very smoothly, plus the back wall is highly adjustable. The bow is a bit heavy, but it features great balance and stability, thus allowing for fairly accurate shooting.
In terms of the finish, there are 7 colors to choose from, and all are very durable, designed to add a layer of protection. The modern riser features a stability mount to help reduce the effect of its large size, and it comes complete with an FLX roller guard to keep the cables properly positioned. The carbon core split limbs included here may be large and heavy, but they are also durable and stiff, not to mention that they come in a variety of draw weights.
Pros
Easy to adjust draw length
Powershift tech for a 3 in 1 bow
Reliable Overdrive binary cam system
Very stable
Accurate aiming
Respectable FPS
Smooth draw
Cons
Expensive
Very heavy and large
Not for hunting and not ideal for beginners
Final thoughts
When all is said and done, in terms of Bowtech bows, the Bowtech Fanatic 3.0 compound bow is one of the best around for target shooting. It's big, stable, accurate, and still produces a respectable IBO speed. This, combined with the high quality Overdrive cam system and Powershift tech, makes the Bowtech Fanatic 3.0 a beast for target shooting.
Video Review
Specifications for the Bowtech bow: Fanatic 3.0
| | |
| --- | --- |
| Brace Height | 7 " |
| Axle to Axle Length | 37.75 " |
| Draw Length | 24 " – 29 " |
| Draw Weight | 30 lbs – 70 lbs |
| IBO Speed | 320 fps |
| Weight | 4.7 lbs |
| Let-Off | 65% or 80% |
3 quick questions about Bowtech Fanatic 3.0
Are Bowtech Fanatic 3.0 bows any good?
How much does a Bowtech Fanatic 3.0 bow cost?
What type of bow is a Bowtech Fanatic 3.0 bow?
More about bows online
Bowtech bows for sale
The bow certainly resembles a Hoyt with its distinctive riser design. It also comes in a number of finishes with the most popular finishes being RealTree Xtra camo as well as shadow, sand and olive. Bear's whitetail hunter compound bow is quite a versatile bow that is chiefly liked and used by the hunters due to its attractive capabilities.
[collapse]
https://arrows2bows.com/wp-content/uploads/2019/12/1-300x138.png
0
0
superadmin
https://arrows2bows.com/wp-content/uploads/2019/12/1-300x138.png
superadmin
2020-01-17 12:10:02
2020-01-18 15:55:22
Bowtech Fanatic 3.0 Compound Bow