Compare Diamond Atomic Compound Bow with other bows: See other Diamond Compound bows for sale
Diamond Atomic bow for sale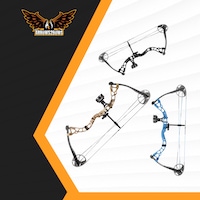 Brace Height: 6 "
Axle to Axle Length: 24 "
Draw Length: 12 " - 24 "
Draw Weight: 6 lbs - 29 lbs
IBO Speed: 191 fps
Weight: 1.9 lbs
Atomic reviews
My kid has been practicing with my 28-inch axle to axle compact bow, but it hasn't been doing her any good. Probably because it is a little bit heavy for her.

So, I decided to search the market for a quality youth bow that will fit her body size and skill set. The Diamond Atomic compound bow is the perfect choice.
Things to Consider Before Buying
The Diamond Atomic Compound Bow is unlike any other kids' bow that has hit the market in the past few years.    
The flagship feature of this bow is adjustability. The draw length can be adjusted from 12 to 24 inches, giving your kid twelve inches to work with.
The draw weight can be adjusted from 6 to 29 pounds, which means your kid has 23 pounds of adjustability. The 60% let-off allows her to hold at full draw to improve her aim.
It is a little bow with a powerful, precision cam system that boosts IBO speeds of up to 190 feet per seconds. This is a fast enough speed for hunting small game from a tree stand.  
When I compared it to the Bear Brave Youth compound bow, the Diamond Atomic is more maneuverable, has an adjustable draw weight, and has a more solid and stable design.
The Diamond Atomic is a great choice if you are looking for a youth bow that has a durable design and is extremely adjustable.
Pros and Cons
Pros:
Features a machined aluminum riser
Has a contoured grip for comfort
Extremely adjustable draw length and weight
Precision cam system boosts fast arrow speed
Comes complete with a shooting package
Cons:
Peep sight seems to have a very small aperture
Does not come with a D-ring/loop
Final Thoughts
There are some adult compact bows that are small enough for kids to handle, but they may still be challenging for a five-year or six-year old to control.
With the Diamond Atomic compound bow, your kid gets a compact design that is extremely adjustable, very forgiving, and easy to maneuver during a hunt.
Video Review
Specifications for the Diamond bow: Atomic
| | |
| --- | --- |
| Brace Height | 6 " |
| Axle to Axle Length | 24 " |
| Draw Length | 12 " – 24 " |
| Draw Weight | 6 lbs – 29 lbs |
| IBO Speed | 191 fps |
| Weight | 1.9 lbs |
| Let-Off | 80% |
3 quick questions about Diamond Atomic
🏹 Is Diamond Atomic bows good for beginners?
This is a compound bow for kids.
🏹 What type of bow is a Diamond Atomic bow?
This is a youth compound bow.
More about bows online
Diamond bows for sale
The chemical can be found in the shape of medicines too. Finally, in case there aren't any acids or liquids, I would love to understand what you wish to create. The compound also helps fight acne and therefore it found in a lot of the skin creams. The chemical compound is employed in many fields of application. On the 1 hand, you've got THC tetrahydrocannabinol the principal psychoactive compound found in marijuana, and the chemical compound which causes you to truly feel high once you smoke or ingest it. Again the regular solution is to begin with a different compound from another sort of plant like pinene from pine trees going through several measures to convert it into menthol.
[collapse]
https://arrows2bows.com/wp-content/uploads/2019/12/1-300x138.png
0
0
superadmin
https://arrows2bows.com/wp-content/uploads/2019/12/1-300x138.png
superadmin
2019-12-31 11:48:57
2020-02-02 08:06:02
Diamond Atomic Compound Bow