Compare Bear Instinct Compound Bow with other bows: See other Compound bows for sale
Bear Instinct bow for sale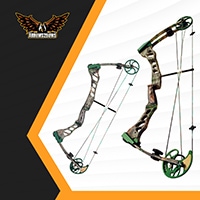 Brace Height: 7.5 "
Axle to Axle Length: 30 "
Draw Length: 23 " - 30 "
Draw Weight: 40 lbs - 70 lbs
IBO Speed: 302 fps - 306 fps
Weight: 4.1 lbs
Instinct reviews
Many people often believe that to practice archery and hunting efficiently, it's essential to invest huge sums of money into the equipment, particularly bows. When I discovered my interest in archery and wanted to pursue it, I was caught up by expensive and unaffordable ranges of bows in the market. That is when I also discovered the most cost-efficient, budget-friendly solution, the Bear Instinct compound bows.
Things to consider before buying
Whether you are a male or female shooter, you will look for some very similar aspects and features in the best compound bow in the market. If you have a tight budget, your choices will be somewhat limited but, there are still good choices. One best option is the Bear Instinct compound bow, which features top-notch functions and mechanisms, but also has an affordable price tag. To make sure that this compound bow is the perfect one for you, read through the following aspects and features that you must consider.
Realtree Hardwood green camo
The Realtree hardwood green camo construction of this compound bow makes it stand out in the market since it makes it a durable and sturdy product.
Machined aluminum riser
The riser is made with machined aluminum to guarantee the longevity and reliability of the product.
Compression-molded limb design
The compression-molded parallel limbs are extremely quiet and smooth, and they have a minimum amount of vibration when drawing the bow. The limb design also ensures a shorter travel time.
Laminated wood grip
A good grip is a must for any compound bow. Without it, a hunter's performance is badly affected. The lamination on the wooden grip provides longevity and reliability of the grip for the user.
Pros
Minimum vibration when using
Very little to no hand or body shocks and impact
An affordable alternative in the market
Great quality of grip
Available in camo pattern for added safety
Cons
Some buyers say that the draw can be smoother
Final thoughts 
Summing it up, we can say that finding a cost-effective, affordable bow is not impossible in the market. If you look for the right features and aspects such as grip quality and limb design, the Bear Instinct compound bow makes up for a great choice. Without spending excessive money, you will be able to make the most out of its top-notch features.
Video Review
Specifications for the Bear bow: Instinct
| | |
| --- | --- |
| Brace Height | 7.5 " |
| Axle to Axle Length | 30 " |
| Draw Length | 23 " – 30 " |
| Draw Weight | 40 lbs – 70 lbs |
| IBO Speed | 302 fps – 306 fps |
| Weight | 4.1 lbs |
| Let-Off | 75% |
3 quick questions about Bear Instinct
🏹Is Bear Instinct bows good for beginners?
Yes it is a budget-friendly solution.
🏹 How much does a Bear Instinct bow cost?
You'll probably have to find it used, but it is a budget-friendly solution.
🏹 Do you need a license to own a Bear Instinct bow?
Nope
More about bows online
Bear bows for sale
The bow certainly resembles a Hoyt with its distinctive riser design. It also comes in a number of finishes with the most popular finishes being RealTree Xtra camo as well as shadow, sand and olive. Bear's whitetail hunter compound bow is quite a versatile bow that is chiefly liked and used by the hunters due to its attractive capabilities.
[collapse]
https://arrows2bows.com/wp-content/uploads/2019/12/1-300x138.png
0
0
superadmin
https://arrows2bows.com/wp-content/uploads/2019/12/1-300x138.png
superadmin
2020-02-02 09:09:00
2020-02-02 16:11:49
Bear Instinct Compound Bow