Compare Bear HomeWrecker Compound Bow with other bows: See other Compound bows for sale
Bear HomeWrecker bow for sale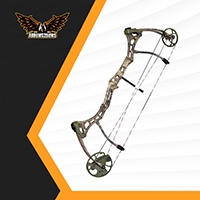 Brace Height: 7.25 "
Axle to Axle Length: 28.5 "
Draw Length: 22 " - 28 "
Draw Weight: 40 lbs - 50 lbs
IBO Speed: 280 fps
Weight: 3.2 lbs
HomeWrecker reviews
Are you a female hunter, or an archery enthusiast, but find it impossible to get the best, most gender-suited equipment for yourself? Since women need a different draw and arm length, and have a different level of physical strength and style, it can become truly difficult to find the right bow. And with such a great variety of products in the market, one really gets confused and overwhelmed by the choices. This is where the Bear Home Wrecker compound bow comes into play. This compound bow for precise, accurate shooting and doesn't disappoint.
Things to consider before buying
While the same power can be used by male and female hunters on a bow, there are some specifications, adjustments, and features that manufacturers have started to include in their bows to make them more female-friendly. Similarly, when you are choosing the best compound bow as a female shooter, there are some aspects and features you can consider to guarantee a safe buy. The Bear Home Wrecker Compound bow has the following distinctive features that make it a great choice for both women and men:
Single cam
Consistency and reliable tuning are important for all shooters. To ensure consistent performance, the single-cam feature of this bow comes in handy.
Axle mounted dampeners
The dampeners absorb extra vibrations. This reduces the impact the shooter feels once the draw is made and also makes the functioning of the bow really quiet and smooth.
3.2 mass weight
The bow is known for its lightweight, yet sturdy construction. It has a total mass weight of about 3.2 pounds, which makes it lighter than most products and, therefore, perfect for a woman's use.
Camo print availability
You get to choose from an option of a camo print bows, as well. This will guarantee better safety and greater confidence out in the wild.
Pros
Lightweight construction
Smooth and accurate draw guaranteed
Also available in a camo pattern for more security
Adjustable features, such as 3-pin fiber optic sight back
Available for both right and left-handed use
Cons
Not recommended for professional use 
Final thoughts
Wrapping it up, the perfect compound bow for women really does exist in the market. But to make the right choice, it takes up a lot of time and energy since there's such a huge variety of products in the market. The Bear Home Wrecker compound bow is one of the well-performing products in the market and is excellent for women's use as well.
Video Review
Specifications for the Bear bow: HomeWrecker
| | |
| --- | --- |
| Brace Height | 7.25 " |
| Axle to Axle Length | 28.5 " |
| Draw Length | 22 " – 28 " |
| Draw Weight | 40 lbs – 50 lbs |
| IBO Speed | 280 fps |
| Weight | 3.2 lbs |
| Let-Off | 80% |
3 quick questions about Bear HomeWrecker
Is Bear Home Wreckerbows good for beginners?
Who owns Bear HomeWrecker bows?
What type of bow is a Bear HomeWrecker bow?
More about bows online
Bear bows for sale
The bow certainly resembles a Hoyt with its distinctive riser design. It also comes in a number of finishes with the most popular finishes being RealTree Xtra camo as well as shadow, sand and olive. Bear's whitetail hunter compound bow is quite a versatile bow that is chiefly liked and used by the hunters due to its attractive capabilities.
[collapse]
https://arrows2bows.com/wp-content/uploads/2019/12/1-300x138.png
0
0
superadmin
https://arrows2bows.com/wp-content/uploads/2019/12/1-300x138.png
superadmin
2020-02-02 12:09:00
2020-02-02 16:08:29
Bear HomeWrecker Compound Bow