Compare Bear Game Over Compound Bow with other bows: See other Bear Compound bows for sale
Bear Game Over bow for sale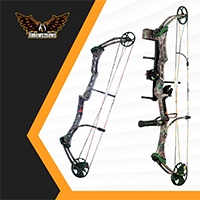 Brace Height: 7.875 "
Axle to Axle Length: 33 "
Draw Length: 25 " - 31 "
Draw Weight: 40 lbs - 70 lbs
IBO Speed: 301 fps - 305 fps
Weight: 3.9 lbs
Game Over reviews
I have been shooting with Bear bows for quite some time now, but this was the first time that I tried a modern compound bow. To tell you the truth, I was blown away with its silent performance and accuracy. And to top it all, it is very easy on the pocket. Now, I can keep both my son and myself outfitted without upsetting my budget. Without the Bear Game Over compound bow, I would not have been able to enjoy bow hunting with my son.
Things to consider before buying
The Bear Game Over Bow is easy to draw and very forgiving, which makes it an excellent choice for beginners, as well as bow hunting enthusiasts. It is available at a very reasonable price, which makes it a great buy for budget shoppers. A review of the following considerations will show that this is a fantastic bow that can be recommended to everyone:   
Comfortable
This compound bow is designed with a non-aggressive cam system that ensures a smooth draw. There is hardly any hump, and the valley is excellent. The 80% let-off makes it easier for shooters to hold this bow for a long time, without their arms getting too tired. It also features super-quiet operation with very little vibration.
Versatile
One of the most forgiving bows by Bear, the Game Over, features greater maneuverability in the field. Its short axle-to-axle measurement and low weight make it highly desirable among shooters. When compared to other bows in this price range, the Game Over has the best features and the latest advancements.
Eccentric system   
The Game Over is designed with an idler wheel system and a single cam. This system boasts a speed of 305 fps with a comfortable 80% let-off. It is equipped with a single arc string suppressor, which ensures hardly any string vibration and noise. 
Pros of the Game Over Compound Bow
Minimum Riser Reflex provides a more accurate and forgiving shot
Allows greater maneuverability in the field
Smooth, flared quad limbs provide more energy
Constructed with durable and machined aircraft-grade aluminum riser
Cons of the Game Over Compound Bow  
Back wall could be better
Final thoughts
The Game Over is a fantastic bow for every bowhunter. Whether you are a bowhunter on a budget or a beginner, you will find the economical price tag of this compound bow quite appealing. Accurate, lightweight, and short axle-to-axle makes it ideal for treestand hunting or shooting from a blind. It is also suitable for recreational use as well.
Video Review
Specifications for the Bear bow: Game Over
| | |
| --- | --- |
| Brace Height | 7.875 " |
| Axle to Axle Length | 33 " |
| Draw Length | 25 " – 31 " |
| Draw Weight | 40 lbs – 70 lbs |
| IBO Speed | 301 fps – 305 fps |
| Weight | 3.9 lbs |
| Let-Off | 80% |
3 quick questions about Bear Game Over
🏹 Who owns Bear Game Over bows?
In 2003 Escalade Sports acquired the North American Archery Group and currently does business as Bear Archery Inc.
🏹 What type of bow is a Bear Game Over bow?
It is a compound bow. Perfect for bowhunting.
More about bows online
Bear bows for sale
The bow certainly resembles a Hoyt with its distinctive riser design. It also comes in a number of finishes with the most popular finishes being RealTree Xtra camo as well as shadow, sand and olive. Bear's whitetail hunter compound bow is quite a versatile bow that is chiefly liked and used by the hunters due to its attractive capabilities.
[collapse]
https://arrows2bows.com/wp-content/uploads/2019/12/1-300x138.png
0
0
superadmin
https://arrows2bows.com/wp-content/uploads/2019/12/1-300x138.png
superadmin
2020-02-02 12:09:00
2020-02-02 16:06:11
Bear Game Over Compound Bow