Compare Bear PARADOX Compound Bow with other bows: See other Bear Compound bows for sale
Bear PARADOX bow for sale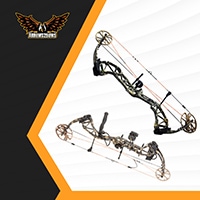 Brace Height: 6.25 "
Axle to Axle Length: 32 "
Draw Length: 23.5 " - 30.5 "
Draw Weight: 45 lbs - 70 lbs
IBO Speed: 330 fps
Weight: 4.3 lbs
PARADOX reviews
Just as the name suggests, the Bear Paradox seems too good to be true and like a bow of such high quality should cost hundreds more. The designers at Bear decided to create a bow that had all of the features and power of a much more expensive bow for only a fraction of the price.
Things to Consider Before Buying
For the price of some beginner bows, the Bear Paradox is able to offer an incredibly compelling package with plenty of tricks up its sleeve. The firing speeds of up to 330 fps mean that the Paradox would be right at home on any hunt and is as fast as some of the highest end compound bows on the market. The unique single-cam system that the Paradox comes equipped with means that high speeds and performance are no longer something reserved for thousand-dollar bows.
The shockwave limb dampeners reduce the vibrations of every shot and work in tandem with the innovative riser design that Bear designed to keep the bow sturdy and rigid without impacting performance. Unlike many other bows at this price point, the Paradox comes with the high-end Contraband strings and bales to ensure that every shot is as good as the first years after the bow is purchased.
Who Should Buy it?
The Paradox comes with Bear's Ready-to-Hunt package, which makes it ready to go hunting out of the box. The power is high enough to please seasoned hunters and the price is justifiable for a new archer. The diversity this bow offers to a wide range of users means that the Paradox would perform equally as well in the hands of a newer archer as it would in the hands of an experienced hunter. The intermediate archer looking for an upgrade from their beginner bow would probably get the most out of the Paradox, with its impressive power and features they can use to reach their peak shooting performance.
Who Shouldn't Buy it?
Many archers would love the power and price of the Paradox, but a few archers might be better off looking elsewhere. The youngest and smallest archers looking for a new bow should avoid the Paradox. The amount of power and draw weight of the bow would be too much to handle for a young child looking to get into archery. The weight of 5.8 pounds is among the heaviest of any bow and means that the Paradox would not be ideal for someone with a smaller frame or who isn't used to the feeling of holding a heavy weight
Pros
 The performance of the Paradox is much better than many other similar bows
The RTH package comes with everything needed to hunt out of the box
The build and design are built to last
Cons
 This is one of the heaviest bows on the market for its class
Final thoughts 
The Bear Paradox punches well above its weight class and price range for anyone who feels strong enough to take it hunting,
Video Review
Specifications for the Bear bow: PARADOX
| | |
| --- | --- |
| Brace Height | 6.25 " |
| Axle to Axle Length | 32 " |
| Draw Length | 23.5 " – 30.5 " |
| Draw Weight | 45 lbs – 70 lbs |
| IBO Speed | 330 fps |
| Weight | 4.3 lbs |
| Let-Off | 80% |
3 quick questions about Bear PARADOX
Are Bear PARADOX bows made in America?
Who owns Bear PARADOX bows?
Do you need a license to own a Bear PARADOX bow?
More about bows online
Bear bows for sale
When you hear the word "Compound" bow, the first thing that comes to mind is a traditional, straight, old-fashioned bow. Well, if you have ever used one, then you know that it isn't what it used to be. That doesn't mean it can't be quite effective, it just means that most professional bow hunters now prefer a bow with a "triple twist" feature that allows you to adjust your draw weight and release the bowstring as you draw it. While many compound bows are made with a traditional draw, they are generally built for more power than most people think. It is important to note that there are few professional compound bowhunters who never use their compound bow with a "triple twist" feature.
Because of their very marketable characteristics, the tri-twist feature has become extremely popular among bow hunters. There are a number of reasons for this popularity. One reason is that even though it isn't always what you would call "fast" it can still outdraw other compound bows if you are hunting long distances. Another reason is that because it has so many great benefits when it comes to accuracy and speed, there are also more variables for you to control as far as draw weight, tension, and release point. Even the user of the compound bow has many different options available to them. In addition, the possibilities are nearly endless when it comes to choosing the best bow for you. Many hunters have come to appreciate the advantages that this type of bow has to offer and that is why this feature is being used by a lot of professional bow hunters.
Even if you don't have a traditional crossbow at your disposal, you can still get a compound bow that will perform to its best ability. What a compound bow does is that it can give you the advantage of flexibility and control while you are hunting. It is a proven fact that bears usually do not react well to compound bows because of the way the "combination locks" on them. Even if you have a traditional bow, you will probably be able to hunt with it if you don't wish to use a bow that is more geared toward speed. Now, if you want a bow that will perform well at long range but also have the maneuverability to handle when you are hunting with it, then a compound bow is exactly what you need. It may take some time to find the right compound bow for you, but once you do, you will find that it is very effective in that regard.
[collapse]
https://arrows2bows.com/wp-content/uploads/2019/12/1-300x138.png
0
0
superadmin
https://arrows2bows.com/wp-content/uploads/2019/12/1-300x138.png
superadmin
2020-02-06 18:16:08
2020-02-10 11:08:03
Bear PARADOX Compound Bow