Compare Bear Domain Compound Bow with other bows: See other Compound bows for sale
Bear Domain bow for sale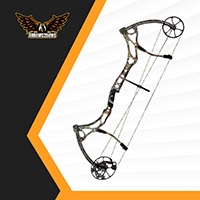 Brace Height: 7 "
Axle to Axle Length: 33 "
Draw Length: 26 " - 31 "
Draw Weight: 40 lbs - 70 lbs
IBO Speed: 322 fps
Weight: 4.0 lbs
Domain reviews
I don't know if this is a personal problem or if it's something others experience out there. But I have been experiencing string pinching problems with my compact bow for way too long.
When looking at the Bear Domain compound bow, I see a piece of equipment that is long enough to eliminate the problem and still provide me with the speed, forgiveness and adjustability I am looking for. 
Things to Consider Before Buying
This bow comes with the company's flagship E3 single cam, which is a rotating module system that delivers speeds of up to 322 feet per second.
This cam is fully machined from aircraft grade aluminum and it is coupled with a newly engineered idler wheel that's designed for performance.
It has durable and flexible limbs that support a draw weight adjustment range of 40 to 70 pounds. It also has zero tolerance limb pockets that ensure the bow is free of vibrations.
When I compared it to the Bear Method, the Bear Domain proved to be more forgiving with a higher let-off at full draw.
The Bear Domain compound bow is a great choice, if you are looking for a longer valley that is more forgiving of shooting flaws.
Pros and Cons
Pros:
Rotating module cam system is easy to adjust
Durable and flexible limbs are highly adjustable
It is more forgiving of shooting flaws
Higher let-off requires less muscle power to hold at full draw
Cons:
Few color options for preference
May not be a suitable choice for young shooters
Final Thoughts
Short axle to axle bows seem to be the trend nowadays, but they have a tendency of causing string pinching. This can lead to a series of shooting flaws. The Bear Domain compound bow has a mid-range ATA with a more favorable valley, a forgiving brace height and considerably fast IBO speeds. 
Video Review
Specifications for the Bear bow: Domain
| | |
| --- | --- |
| Brace Height | 7 " |
| Axle to Axle Length | 33 " |
| Draw Length | 26 " – 31 " |
| Draw Weight | 40 lbs – 70 lbs |
| IBO Speed | 322 fps |
| Weight | 4.0 lbs |
| Let-Off | 80% |
3 quick questions about Bear Domain
🏹 How much does a Bear Domain bow cost?
You'll have to find it used, so it depends.
🏹 What type of bow is a Bear Domain bow?
It is a Compound bow. Check also – best compound for women and for hunting.
More about bows online
Bear bows for sale
Apart from the most suitable price, you will also need to think about how suitable the bow is going to be for your gender, age, draw weight, and several other critical characteristics. Shooting a compound bow might appear arduous particularly if you are doing it for the very first time but as soon as you learn to adhere to the steps, it is going to feel easier. Shooting it is easier compared to shooting a traditional bow and arrow, but that does not mean that it is just a walk in the park. Diamond Infinite Edge Compound Bow Although it's considered a beginner bow, the Diamond Infinite Edge has some wonderful features that give a versatility that's uncommon in the majority of modern bows.
[collapse]
https://arrows2bows.com/wp-content/uploads/2019/12/1-300x138.png
0
0
superadmin
https://arrows2bows.com/wp-content/uploads/2019/12/1-300x138.png
superadmin
2020-02-02 00:09:00
2020-02-02 13:40:17
Bear Domain Compound Bow