Compare Bear DIVERGENT Compound Bow with other bows: See other Bear Compound bows for sale
Bear DIVERGENT bow for sale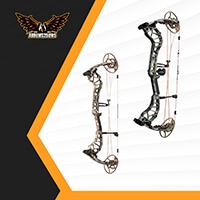 Brace Height: 6.5 "
Axle to Axle Length: 28 "
Draw Length: 25.5 " - 30 "
Draw Weight: 45 lbs - 70 lbs
IBO Speed: 338 fps
Weight: 3.9 lbs
DIVERGENT reviews
Bear has a history of making bows that appeal to a wide variety of archers and the Bear Divergent represents what years of dedication and innovation can create. This textbook bow does everything you need and more for a price that is comparable to bows that can't even get close to the Divergent's level of performance.
Things to consider before buying
Combining new sizes and technologies never before used by Bear, the Divergent creates a bow unlike any other at a price that can't be beat. The Divergent comes in at only 3.9 pounds, making it one of the lightest bows in its class. Even with such a low weight, the Divergent is able to shoot arrows at a blistering 340 fps which is more than enough for any serious hunter. The 28-inch axel-to-axel size makes this a great bow for smaller archers or anyone who hunts in the trees and needs to be able to navigate and adjust their position with ease. The Bear shockwave and sonic stop technologies that have been tested and loved on other bows give the Divergent an extra edge in the field by reducing noise and vibration for a silent and deadly kill.
Who should buy it?
The Divergent offers features and technology that can feel at home with any archer as any skill level. The compact design and lightweight build of the bow makes it perfect for smaller archers and would be a great bow for the female archer who wants a bow with some extra kick. Even the largest and most experienced archers will be able to appreciate the compact design of this bow and how it would be perfect for the tree archer.
Who shouldn't buy it?
Bear designed this bow to be easy to use for a smaller individual and that is apparent in their design language and specifications. However, due to the rather high minimum draw weight, the Divergent would not be ideal for an archer who has not yet developed the strength to draw back a bow with a heavier draw weight. The smaller design may also be uncomfortable for archers with longer wingspans as the small frame and draw distance wouldn't feel quite right with longer arms.
Pros
The lightweight design reduces fatigue when making multiple shots back-to-back
The Divergent is priced below other bows of a similar specification without the compromises
All of the standard Bear technologies are present to make this bow stable and silent
Female archers and small framed archers can have power that is not normally present in smaller frames
Cons
The compact design may not be ideal for larger archers
The higher speeds may be too much for newer archers
Final Thoughts
With the performance of a large bow in a compact and lightweight package, the Divergent proves that good things can come in small packages. For the archer who may not be big in size but wants big power, the Divergent will meet and then exceed your expectations.
Video Review
Specifications for the Bear bow: DIVERGENT
| | |
| --- | --- |
| Brace Height | 6.5 " |
| Axle to Axle Length | 28 " |
| Draw Length | 25.5 " – 30 " |
| Draw Weight | 45 lbs – 70 lbs |
| IBO Speed | 338 fps |
| Weight | 3.9 lbs |
| Let-Off | 75% |
3 quick questions about Bear DIVERGENT
Are Bear DIVERGENT bows any good?
How much does a Bear DIVERGENT bow cost?
Do you need a license to own a Bear DIVERGENT bow?
More about bows online
Bear bows for sale
The Bear Divergent Compound Bow is an excellent bow to have in your hunting arsenal. The name of the Bow might sound strange, but bear's bite will get you plenty of food. And the Strike Kit will be with you at all times when you hunt for food. The Strike Kit comes with this bow, plus a hunting knife, snacks, powder, and more. This kit comes complete with everything you need when you are hunting!
The barrels are made of stainless steel, which helps the barrel stretch to take all the weight you can bear. It also allows for the "retractable" part of the compound bow to become smaller. This allows for it to move at a greater rate of speed, allowing you to shoot faster. And, even though it has a "retractable" portion, it does not make a big deal out of the part that it does not "retract" back into position.
Bear Divergent Compound Bow is a really good bow to have, as it has many features, both good and bad. You have to make sure that you get the right size of bows for your body size. This is the only reason it is worth having. You can use it for deer, mule deer, turkey, and much more.
[collapse]
https://arrows2bows.com/wp-content/uploads/2019/12/1-300x138.png
0
0
superadmin
https://arrows2bows.com/wp-content/uploads/2019/12/1-300x138.png
superadmin
2020-02-06 18:16:08
2020-02-07 13:14:32
Bear DIVERGENT Compound Bow