Compare Bear Finesse Compound Bow with other bows: See other Compound bows for sale
Bear Finesse bow for sale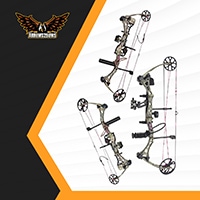 Brace Height: 7 "
Axle to Axle Length: 28.625 "
Draw Length: 23 " - 28 "
Draw Weight: 30 lbs - 50 lbs
IBO Speed: 285 fps
Weight: 3.0 lbs
Finesse reviews
It can be difficult for female archers to find the right compound bow in a male-dominated sport. The bow must not only fit well with their body, but also needs to offer specific features, such as draw length and mass weight suitable for their size. Both men and women archers look for the quality of performance in a compound bow. However, if you are a female archer and struggling to find the best compound bow to match your style, then the Bear Finesse compound bow is your solution.
Things to consider before buying
Before you can give a verdict or decide whether or not a compound bow is good for you and fit for your purpose, it is important to consider some important aspects. A good compound bow should have suitable draw length and mass weight, along with important features such as grip quality and a good IBO speed. The following are the specifications and features of the Bear Finesse Compound bow that make it the best for women and overall too.
Lightweight
The mass weight of the bow is 3 pounds, which is lighter than most bows and is therefore great for women and men with smaller frames.
FH1 cam system
An advanced solo cam system is installed to ensure a smooth and reliable draw. This also reduces noise and vibration.
Offset string suppressor
With other added features such as HP strings and Trophy Ridge Stabilizer, the offset string suppressor reduces vibration and noise in the functioning of the bow.
Noise dampening
A range of silencing and noise dampening features are put in place. Cable slides, adjustable string stop, film-dipped coating, and ridge stabilizer also help in noise reduction.
Pros of the Bear Finesse Compound Bow
Range of noise dampening features
Minimizes recoil
Highly recommended for women
Very lightweight (only 3 pounds)
Priced competitively, making it an affordable alternative
Solo cam system is exceptionally accurate and smooth
Cons of the Bear Finesse Compound Bow
Not the best choice for beginners
Final thoughts 
The Bear Finesse compound bow is an amazing bow for female archers. It is designed carefully in order to meet the needs of women, with features such as the FH1 solo cam system that reduces recoil and minimizes vibrations. With a complete silencing package and an outstandingly lightweight build, this bow is the complete package that has everything from safety to comfort.
Video Review
Specifications for the Bear bow: Finesse
| | |
| --- | --- |
| Brace Height | 7 " |
| Axle to Axle Length | 28.625 " |
| Draw Length | 23 " – 28 " |
| Draw Weight | 30 lbs – 50 lbs |
| IBO Speed | 285 fps |
| Weight | 3.0 lbs |
| Let-Off | 80% |
3 quick questions about Bear Finesse
🏹 How much does a Bear Finesse bow cost?
You'll easy find the price through our site.
🏹 What type of bow is a Bear Finesse bow?
It is a good compound bow for women.
More about bows online
Bear bows for sale
The bow certainly resembles a Hoyt with its distinctive riser design. It also comes in a number of finishes with the most popular finishes being RealTree Xtra camo as well as shadow, sand and olive. Bear's whitetail hunter compound bow is quite a versatile bow that is chiefly liked and used by the hunters due to its attractive capabilities.
[collapse]
https://arrows2bows.com/wp-content/uploads/2019/12/1-300x138.png
0
0
superadmin
https://arrows2bows.com/wp-content/uploads/2019/12/1-300x138.png
superadmin
2020-02-02 12:09:00
2020-02-02 14:04:01
Bear Finesse Compound Bow