Compare Bear Bounty Compound Bow with other bows: See other Compound bows for sale
Bear Bounty bow for sale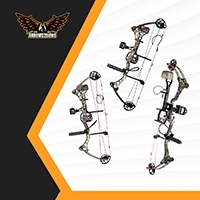 Brace Height: 7 "
Axle to Axle Length: 29.75 "
Draw Length: 23.5 " - 27 "
Draw Weight: 30 lbs - 50 lbs
IBO Speed: 295 fps
Weight: 3.2 lbs
Bounty reviews
It's hard to be a woman in a man's world. At least that is what I used to think when going hunting with a 33-inch ATA bow that had terrible maneuverability.
But then I heard of the Bear Bounty compound bow- a small frame masterpiece that fits my body perfectly. This bow is easy to control in almost every shooting scenario. 
Things to Consider Before Buying
The Bear Bounty compound bow is designed specifically for female archers, and that is why it is a great choice for my body size and skill set.
With a speed performance of the FH2 hybrid cam setup, the Bear Bounty shoots fairly fast speeds of up to 295 feet per second.
It has a remarkable forgiveness of 7-inch brace height, which is great because a small figured person can hold the bow at full draw with ease.
I particularly like the maneuverability of a bow that sits at 29.75-inch axle to axle and weighs 3.2 pounds. It is a perfect choice for shooting from a tree stand.
When compared to the Bear Crux, the Bear Bounty is more compact and lighter, better suited for women. It also has a higher let-off, which means less energy spent.
The Bear Bounty is what you should be looking for if you want more forgiveness, a poundage range that's right for a small figured body, and a higher let-off.
Pros and Cons
Pro:
Highly forgiving of shooting flaws
Higher let-off that ensures less energy is used
Slightly lighter poundage, so it's ideal for women
Soft drawing hybrid cam system
Cons:
Not a suitable choice for large-figured bodies
Draw length range may be short for some shooters
Final Thoughts
A longer axle to axle doesn't really help if you are a woman or a shooter with a small body. Luckily, it's easier to find compact bows now, like the Bear Bounty compound bow. What makes this bow such a reliable choice for women is: its long brace height of 7 inches, higher let-off of 80 percent, and maneuverability of 29.75 inches.
Video Review
Specifications for the Bear bow: Bounty
| | |
| --- | --- |
| Brace Height | 7 " |
| Axle to Axle Length | 29.75 " |
| Draw Length | 23.5 " – 27 " |
| Draw Weight | 30 lbs – 50 lbs |
| IBO Speed | 295 fps |
| Weight | 3.2 lbs |
| Let-Off | 80% |
3 quick questions about Bear Bounty
🏹 Are Bear Bounty bows any good?
Yes – designed specifically for female archers.
🏹 Who owns Bear Bounty bows?
Escalade Sports owns the company, which they bought in 2003.
🏹 Do you need a license to own a Bear Bounty bow?
No
More about bows online
Bear bows for sale
The Bear Attitude is a superb value for the budget mined hunter and is a great alternative for hunting purposes. It is the perfect choice for hunters who are looking for a short bow for hunting from a tree stand or ground blind due to its short axle-to-axle length and relatively light weight which makes it very easy to maneuver in tight quarters. Although it is good for beginners, the bear authority is really the better option for hunting deer. In the following piece, we hope you can comprehend the bear attitude vs. authority compound bows to decide on the very best one for your requirements.
[collapse]
https://arrows2bows.com/wp-content/uploads/2019/12/1-300x138.png
0
0
superadmin
https://arrows2bows.com/wp-content/uploads/2019/12/1-300x138.png
superadmin
2020-02-02 12:09:00
2020-02-02 13:28:59
Bear Bounty Compound Bow