Compare Bear Authority Compound Bow with other bows: See other Compound bows for sale
Bear Authority bow for sale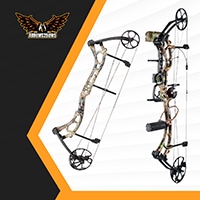 Brace Height: 6.75 "
Axle to Axle Length: 31 "
Draw Length: 24.5 " - 31.5 "
Draw Weight: 40 lbs - 70 lbs
IBO Speed: 315 fps
Weight: 4.0 lbs
Authority reviews
Introducing a uniquely made masterpiece that comes fully equipped with state-of-the-art ready to hunt package, the Bear Authority.
The Bear Authority compound bow has a soft cam that allows for smooth draw cycles, and the RTH package is the real deal. 
Things to Consider Before Buying
It is a compact design that features a 31-inch axle to axle, a 6¾-inch brace height, and shoots fast speeds of up to 315 FPS.
The bow is fitted with Bear's high-performing EZ3 single cam system, which is equipped with a rotating module for super easy adjustments of the draw length (24.5 to 31.5 inches).
What really caught my eye at first glance were the Bear Flared Quad Limbs (split parallel). These limbs are very effective at dampening hand shock.
What is even more impressive are the zero tolerance limb pockets, which ensure the bow is extremely stable for soft drawing and release.
The Bear Authority compound bow gets stiff competition from the Diamond Provider. But it outshines the competition with its highly adjustable draw length and faster IBO speed.
The Bear Authority can definitely help you if you are looking to shoot a compact bow with soft drawing and release.
Pros and Cons
Pros:
Milled aluminum riser offers a solid platform
Split parallel limbs eliminate hand shock
Zero tolerance limb pockets allow for soft drawing
Rotating module on cams allow for smooth adjustment
Cons:
Slightly heavy considering that it has a short ATA
Strings may need wax right out of the box
Final Thoughts
Shooting a compound bow with a hard drawing cam system can be very challenging. To shoot a hard cam, you would need a very steady draw. That's why the Bear Authority is a great choice. What makes this bow quite an impressive masterpiece is: its soft drawing single cam setup, split parallel limbs, and the zero tolerance limb pockets. 
Video Review
Specifications for the Bear bow: Authority
| | |
| --- | --- |
| Brace Height | 6.75 " |
| Axle to Axle Length | 31 " |
| Draw Length | 24.5 " – 31.5 " |
| Draw Weight | 40 lbs – 70 lbs |
| IBO Speed | 315 fps |
| Weight | 4.0 lbs |
| Let-Off | 80% |
3 quick questions about Bear Authority
🏹 Who owns Bear Authority bows?
Bear Archery was founded in 1933 by Charles and Fred. Sold in 2003 to Escalade Sports.
🏹 Do you need a license to own a Bear Authority bow?
No
More about bows online
Bear bows for sale
The Bear Attitude is a superb value for the budget mined hunter and is a great alternative for hunting purposes. It is the perfect choice for hunters who are looking for a short bow for hunting from a tree stand or ground blind due to its short axle-to-axle length and relatively light weight which makes it very easy to maneuver in tight quarters. Although it is good for beginners, the bear authority is really the better option for hunting deer. In the following piece, we hope you can comprehend the bear attitude vs. authority compound bows to decide on the very best one for your requirements.
[collapse]
https://arrows2bows.com/wp-content/uploads/2019/12/1-300x138.png
0
0
superadmin
https://arrows2bows.com/wp-content/uploads/2019/12/1-300x138.png
superadmin
2019-12-16 12:09:58
2020-02-02 13:26:16
Bear Authority Compound Bow