Compare Bear Cruzer Compound Bow with other bows: Compound bows for everyone
Bear Cruzer bow for sale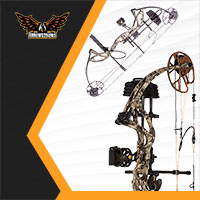 Brace Height: 6.5 "
Axle to Axle Length: 30 "
Draw Length: 12 " - 30 "
Draw Weight: 5 lbs - 70 lbs
IBO Speed: 315 fps
Weight: 3.1 lbs
Cruzer reviews
I almost gave up bow hunting all together because of a bow that was long and difficult to maneuver, with a draw weight that was too heavy for me to handle.
The Bear Cruzer Compound Bow would be a game changer for me. This work of art comes with a remarkable speed, adjustability and ease of handling. 
Things to Consider Before Buying
Introducing the Bear Cruzer compound bow, the most versatile hunting equipment Bear has ever brought to the market.
This is a fantastic bow for beginners or advanced archers and it is the perfect choice for your entire family, thanks to its extremely adjustable draw weight of 5 to 70 pounds.
It comes with a high-performing MV cam system that is highly adjustable from 12 to 30 inches. This cam system also boosts speeds of up to 310 feet per second.
It comes with the most flexible limbs I have ever come across, which is great because they offer a 65-pound range of adjustment.
The moderately short brace height of 6.5 inches ensures the string travels farther forward upon launch, which is great because it increases arrow velocity.
When compared to the Bear Cruzer G2, the Bear Cruzer has a higher let-off of 75 percent, which ensures you use less energy when holding it at full draw.
The Bear Cruzer is the perfect choice, if you want a fast bow with a reasonably short brace height and extremely adjustable draw length and weight.
Pros and Cons
Pros:
Has a higher pound range adjustment
Highly adjustable draw length
Soft drawing cam system makes it easy to shoot
Comes equipped with a ready to hunt package
Cons:
May be critical to shooting accurately
Possible to torque the string
Final Thoughts
A more forgiving bow is ideal for shooting comfortably, but it is not the most ideal choice when hunting game that is easily spooked. So, you need a fast bow with a slightly short brace height.
The Bear Cruzer compound bow is the ideal choice because it is fast, highly adjustable (both draw length and weight), and has a high let-off.
Video Review
Specifications for the Bear bow: Cruzer
| | |
| --- | --- |
| Brace Height | 6.5 " |
| Axle to Axle Length | 32 " |
| Draw Length | 12 " – 30 " |
| Draw Weight | 5 lbs – 70 lbs |
| IBO Speed | 310 fps |
| Weight | 3.6 lbs |
| Let-Off | 75% |
3 quick questions about Bear Cruzer
🏹 Are Bear Cruzer bows any good?
This is a fantastic bow for both beginners or advanced archers. It has an extremely adjustable draw weight.
🏹 Who owns Bear Cruzer bows?
Parent organizations: Indian Industries Inc, Escalade, Incorporated.
More about bows online
Bear bows for sale
The compound bow is prepared to take along hunting, and the form of the limbs supplies you with the required control for well-aimed shots. This compound bow is well worth acquiring, whether you wish to get it for adult users in your house or for young users. Bear Compound bows have come quite a distance from the conventional roots of archery.
[collapse]
https://arrows2bows.com/wp-content/uploads/2019/12/1-300x138.png
0
0
superadmin
https://arrows2bows.com/wp-content/uploads/2019/12/1-300x138.png
superadmin
2020-02-02 11:09:00
2020-02-02 13:37:24
Bear Cruzer Compound Bow