Compare Diamond Iceman Compound Bow with other bows: See other Diamond Compound bows for sale
Diamond Iceman bow for sale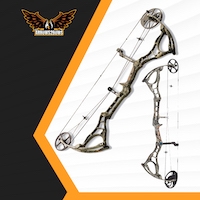 Brace Height: 7 "
Axle to Axle Length: 31.5 "
Draw Length: 24 " - 30 "
Draw Weight: 50 lbs - 70 lbs
IBO Speed: 310 fps - 318 fps
Weight: 3.9 lbs
Iceman reviews
The Diamond Iceman is suitable for people who are looking to improve their archery skills. With a shooting speed of 318 feet per second, you can easily work your way up and improve your precision with this compound bow. This is a bow better suited for serious bowhunters, and it is not meant for novices.
Things to consider before buying
The Iceman is deadly quiet and it also features vibration dampening riser with center pivot. There are rotating modules as well that make adjustments very easy to complete. This compound bow is good for 3D shooting and target practice.
Finish
The Iceman compound bow boasts the same invelvet finish as other Diamond bows, which makes the riser very smooth to touch and prevents the bow from scratches and dings. The bow is available in the "Realtree Hardwoods HD" finish.
Riser
This compound bow features a center pivot technology that will improve your accuracy. There is zero tolerance assembly of the riser with the limbs to reinforce accuracy in your shots. The Iceman also has a carbon suppressing shaft to shift vibrations from your hand. 
Cams
This bow features single-cam construction and you won't have to take care of balancing the timing. Making the adjustment is very easy and you can conveniently custom fit the bow according to your needs and preferences.
Who should buy it?
The Diamond Iceman is a good quality compound bow that is designed for hunting. A well-trained bowhunter will find it very useful.
Who shouldn't buy it?
This is not the best choice for novices, even though you can make adjustments to the bow to make it work for a beginner. 
Pros
Forgiving single-cam construction
Extremely silent bow
No need to use bow press for adjustments
Cons
Not a compound bow for speed
Final Thoughts
This is a compound rig that specializes in hunting. You can fully adjust it according to your requirements and can use it for 3D shooting and target practice as well. The Diamond Iceman is a good choice for bowhunters who have field experience under their belt.
Video Review
Specifications for the Diamond bow: Iceman
| | |
| --- | --- |
| Brace Height | 7 " |
| Axle to Axle Length | 31.5 " |
| Draw Length | 24 " – 30 " |
| Draw Weight | 50 lbs – 70 lbs |
| IBO Speed | 310 fps – 318 fps |
| Weight | 3.9 lbs |
| Let-Off | 65% – 80% |
3 quick questions about Diamond Iceman
Are Diamond Iceman bows made in America?
How much does a Diamond Iceman bow cost?
Do you need a license to own a Diamond Iceman bow?
More about bows online
Diamond bows for sale
Perhaps among the most important decisions you will need to make when picking a compound bow is whether to shoot right-handed or left-handed. As a compound bow is under lots of tension all the time that it is preferable to do it this manner. This kind of compound bow will function just like a solo, since the idler wheel is going to be replaced with a different cam.
[collapse]
https://arrows2bows.com/wp-content/uploads/2019/12/1-300x138.png
0
0
superadmin
https://arrows2bows.com/wp-content/uploads/2019/12/1-300x138.png
superadmin
2019-12-31 11:48:57
2020-02-02 08:25:45
Diamond Iceman Compound Bow