Compare Diamond Rapture Compound Bow with other bows: See other Diamond Compound bows for sale
Diamond Rapture bow for sale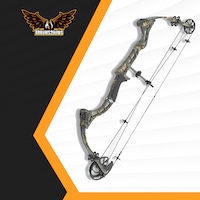 Brace Height: 7.75 "
Axle to Axle Length: 31.5 "
Draw Length: 26 " - 31 "
Draw Weight: 40 lbs - 70 lbs
IBO Speed: 305 fps
Weight: 3.6 lbs
Rapture reviews
Diamond Rapture is the right choice for lightweight compound bow users. This rig is very forgiving and is aesthetically simple. It features a draw stop that is limb-activated and it covers the bow's lack of draw cycle. 
Things to consider before buying
This compound bow doesn't have any stretch even at full draw. The Rapture isn't the fastest bow at 300 feet per second, but with that extra-long brace height of 7.5 inches, you won't be disappointed. If you are looking for an inexpensive and simple bow that will get the job done then this is the rig for you.
Finish
The Rapture is only available in "New Breakup Camo Mossy Oak." Although there's only one finish choice, the dark pattern offers texture and depth. Diamond has coated it with a soft-touch coating that works well in cold weather.
Riser and limbs
Diamond has machined the Rapture out of aluminum alloy 6061. It has a flat, wide shelf. The riser is not very flexible and the reflex in it is pretty much contained as well. The parallel limb construction features much-stressed limbs. The limbs, on the other hand, are made of pre-stressed composite and at full draw; these limbs will not get to parallel structure. So you will have to deal with some jolt in your shots.
Cams
The Rapture's cam is rated at 300 feet per second, which might be a bit on the low side, but you can easily adjust the let-off from 65% to 80%. The designated sliding post is specifically there for adjustment purposes. 
Who should buy it?
If you are an ambush hunter then this rig will suit you a lot. Apart from that, you can use it for practice as well as 3D shooting.
Who shouldn't buy it?
This bow is not for long-range archers. 
Pros
Low vibration and shock
Very forgiving and versatile
No bow press needed for draw length adjustment
Cons
Final Thoughts
With good brace height and pretty decent axel-to-axel length, the Diamond Rapture is the best choice for short-range shooters who prefer something light in their hands.
Video Review
Specifications for the Diamond bow: Rapture
| | |
| --- | --- |
| Brace Height | 7.75 " |
| Axle to Axle Length | 31.5 " |
| Draw Length | 26 " – 31 " |
| Draw Weight | 40 lbs – 70 lbs |
| IBO Speed | 305 fps |
| Weight | 3.6 lbs |
| Let-Off | 65% – 80% |
3 quick questions about Diamond Rapture
🏹 Are Diamond Rapture bows made in America?
Yes Diamond is a sister company of the American company Bowtech.
🏹 How much does a Diamond Rapture bow cost?
This is not thenewest bow, so it depends on what you can find it for used.
🏹 What type of bow is a Diamond Rapture bow?
Diamond Rapture is a great compound bow choice for short-range shooters.
More about bows online
Diamond bows for sale
[collapse]
https://arrows2bows.com/wp-content/uploads/2019/12/1-300x138.png
0
0
superadmin
https://arrows2bows.com/wp-content/uploads/2019/12/1-300x138.png
superadmin
2019-12-31 11:48:57
2020-01-08 11:32:02
Diamond Rapture Compound Bow