Compare Diamond Fear No Evil Compound Bow with other bows: See other Diamond Compound bows for sale
Diamond Fear No Evil bow for sale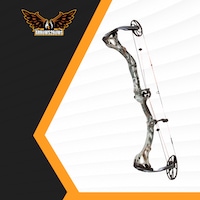 Brace Height: 6.125 "
Axle to Axle Length: 32 "
Draw Length: 26 " - 30 "
Draw Weight: 50 lbs - 70 lbs
IBO Speed: 343 fps
Weight: 3.95 lbs
Fear No Evil reviews
Many users of this compound bow say that this is a repeat version of the Diamond Dead Eye. The Bowtech team was asked to create a special edition compound bow for the "Fear No Evil" TV show and Chris Brackett. The Dead Eye is Diamond's fastest compound bow, which is perhaps why the company decided to keep the package and rebrand it.
Things to consider before buying
In terms of specs, there are no differences between the Dead Eye and the Fear No Evil. The axel-to-axel length is 32 inches while the brace height of this compound bow is 6.125 inches. The Fear No Evil can produce a shooting speed of 343 feet per second and is very accurate as well.
Finish
The Diamond Fear No Evil has the same invelvet finish as the Dead Eye, but the only color pattern available here is "Realtree APG." Because of the invelvet design, the bow remains silent even if you bang it around accidentally.
Riser
This compound bow comes with a machined aluminum riser that is extremely lightweight. At the end of the riser, there are limb pockets to improve your shooting accuracy. The limbs have seven-layered lamination that improves durability significantly.
Cams
Like all Diamond bows, the Fear No Evil also features a single cam system that you won't have to adjust each time you make your shots. This cam system can produce 343 fps shooting speed and your arrows can travel at low trajectories as well.
Who should buy it?
This compound bow will work well in any shooter's hand, either experienced or inexperienced. The rotating modules do their job very well and the adjustment process in between different settings is a breeze.
Who shouldn't buy it?
You don't need to buy this bow if you already have Dead Eye because there is practically no difference between the two compound bows.
Pros
Very simple to tune
Solid platform for shooting
Very quiet
Highly accurate ad solid back wall
Cons
Final Thoughts
This is the bow for you if you are a huge Chris Brackett fan!
Video Review
Specifications for the Diamond bow: Fear No Evil
| | |
| --- | --- |
| Brace Height | 6.125 " |
| Axle to Axle Length | 32 " |
| Draw Length | 26 " – 30 " |
| Draw Weight | 50 lbs – 70 lbs |
| IBO Speed | 343 fps |
| Weight | 3.95 lbs |
| Let-Off | 80% |
3 quick questions about Diamond Fear No Evil
Are Diamond Fear No Evil bows made in America?
Who owns Diamond Fear No Evil bows?
Do you need a license to own a Diamond Fear No Evil bow?
More about bows online
Diamond bows for sale
There are a couple of things you will need to think about when picking a compound bow. If you want to get a compound bow, getting to understand what others think about the models which are available would be quite helpful. Purchasing a compound bow is a huge thing. The PSE Nova Compound bow was created with comfort and simplicity of use in mind.
[collapse]
https://arrows2bows.com/wp-content/uploads/2019/12/1-300x138.png
0
0
superadmin
https://arrows2bows.com/wp-content/uploads/2019/12/1-300x138.png
superadmin
2019-12-31 11:48:57
2020-02-02 08:23:56
Diamond Fear No Evil Compound Bow