Compare Diamond Carbon Cure Compound Bow with other bows: See other Diamond Compound bows for sale
Diamond Carbon Cure bow for sale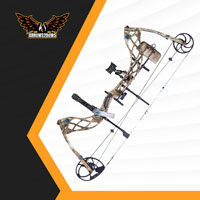 Brace Height: 7 "
Axle to Axle Length: 32 "
Draw Length: 27 " - 30.5 "
Draw Weight: 40 lbs - 70 lbs
IBO Speed: 325 fps
Weight: 3.3 lbs
Carbon Cure reviews
The Diamond Carbon Cure is suitable for short-range shooting. It is another shortie with an axel-to-axel length of only 32 inches. The compound bow only weighs around 3 lbs and it is very easy to carry around if you cover a lot of distance when you are out on the field. It is available in multiple draw weights and lengths.
Things to consider before buying
With a pretty decent draw length ranging between 27 and 30.5 inches, the Carbon Cure is a great choice for any hunter who likes to ambush his prey. You can also use this bow for target practice. With 322 fps, this compound bow is a real killer in short-range shooting.
Eccentrics
The Diamond Carbon Cure boasts a single cam construction. Single cam is preferable for many hunters over a double cam system because of the timing issues of a double eccentric system. The bow itself is very smooth.
Riser, limbs, and grip
This bow comes with the reflexed design Knight Riser, but it is lightweight. It is the same riser that Bowtech uses for its compound bows. The position of the riser makes the limbs parallel as well, and this construction reduces any noise and vibration during your shots. The slim grip is molded right into the bow and it has a construction that reduces torque and improves overall accuracy.
Draw Cycle
The draw cycle of this compound bow is exceptionally smooth. This is very rare especially when we talk about the compound bows with hard cams. But because of the hard cam construction, the Carbon Cure has a distinct peak, which you have to overcome to draw the bow fully.
Who should buy it?
The Carbon Cure is designed for short-range shooters who prefer to ambush their prey. You can also use it for target practice as well as small game hunting.
Who shouldn't buy it?
The Carbon Cure is not the right choice for you if you are looking to make those long-range shots. Your shots will lose power if you go long distances with this bow.
Pros
Extremely smooth for drawing and shooting
Carbon riser is very lightweight
No time problems with single cam construction
Cons
You might not like the short axel-to axel length of this bow
Final Thoughts
Good for 3D shooting and practice, and excellent for ambush hunting, the Diamond Carbon Cure compound bow is for novices and experts alike.
Video Review
Specifications for the Diamond bow: Carbon Cure
| | |
| --- | --- |
| Brace Height | 7 " |
| Axle to Axle Length | 32 " |
| Draw Length | 27 " – 30.5 " |
| Draw Weight | 40 lbs – 70 lbs |
| IBO Speed | 325 fps |
| Weight | 3.3 lbs |
| Let-Off | 80% |
3 quick questions about Diamond Carbon Cure
🏹 Are Diamond Carbon Cure bows any good?
If you are a short-range shooter. If you want something that shootes a little longer or that are a fit for hunting bigger animals, take a look here.
🏹 Who owns Diamond Carbon Cure bows?
Bowtech with Headquartered in Eugene, Oregon.
🏹 Do you need a license to own a Diamond Carbon Cure bow?
No
More about bows online
Diamond bows for sale
You don't wish to put money into a bow with a period of draw that's too long or too short. Also, give enough consideration to the type of cam system that the bow is incorporated with and think about the type of system which you intend to shoot. There are lots of bows on the market which are made to grow and be changed with you.
[collapse]
https://arrows2bows.com/wp-content/uploads/2019/12/1-300x138.png
0
0
superadmin
https://arrows2bows.com/wp-content/uploads/2019/12/1-300x138.png
superadmin
2019-12-31 11:48:57
2020-02-02 08:09:32
Diamond Carbon Cure Compound Bow