Compare Diamond Infinite Edge Compound Bow with other bows: See other Diamond Compound bows for sale
Diamond Infinite Edge bow for sale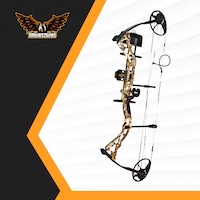 Brace Height: 7 "
Axle to Axle Length: 31 "
Draw Length: 13 " - 30 "
Draw Weight: 5 lbs - 70 lbs
IBO Speed: 310 fps
Weight: 3.1 lbs
Infinite Edge reviews
This lightweight rig is all about adjustability, allowing you to adjust the draw length between 13 and 30 inches. The Diamond Infinite Edge is a compound bow with which you can start learning your skills and become a well-trained archer.
Things to consider before buying
The Diamond Infinite Edge comes with different draw weights, ranging from 5 to 70 lbs. With a 31-inch axel-to-axel length, this compound bow comes with 75% let-off and produces a shooting speed of 310 feet per second.
Draw cycle
The cams of this compound bow are not aggressive. Therefore, the peak draw weight takes place slowly yet smoothly. There are no humps during the draw cycle, not even before the valley. This valley is very wide and it takes care of the string's forward creeping.
Riser, limb, and grip
As it is an entry-level bow, Diamond hasn't used any high profile or cutting-edge technology in the construction of the Infinite Edge. It has a parallel limb design with a single machined aluminum riser. The limbs are very sturdy and they significantly improve the durability of this bow.
Cams
This compound rig comes with the double-cam system and you will be able to shoot an arrow that is perfectly in line with the target. Additionally, the cams are very smooth which will make recocking a bit easier, but you will have to compromise on speed.
Who should buy it?
IF you want to buy a starter bow, then you will not find a better rig then the Infinite Edge from Diamond. This bow will grow with you as you develop your skills.
Who shouldn't buy it?
This is not designed for experts and professionals. Instead, the Infinite Edge Pro is the model to choose for archery veterans. 
Pros
Highly adjustable
Great starter rig
Extremely lightweight
Superb for target shooting
Cons
Final Thoughts
If you are looking for a compound rig that you can use to gradually improve your skills with the passage of time, the Diamond Infinite Edge is a good choice. You can conveniently make adjustments to the bow as you get better and better with practice.
Video Review
Specifications for the Diamond bow: Infinite Edge
| | |
| --- | --- |
| Brace Height | 7 " |
| Axle to Axle Length | 31 " |
| Draw Length | 13 " – 30 " |
| Draw Weight | 5 lbs – 70 lbs |
| IBO Speed | 310 fps |
| Weight | 3.1 lbs |
| Let-Off | 75% |
3 quick questions about Diamond Infinite Edge
🏹 Are Diamond Infinite Edge bows made in America?
Yes. Diamond is a sister company of Bowtech.
🏹 Do you need a license to own a Diamond Infinite Edge bow?
No
More about bows online
Diamond bows for sale
The 1 reason you can have for wanting to change out your bow is for individual preference. Know that the bow isn't prepared to shoot. Diamond bows are created by Bowtech, among the finest compound bow manufacturers on earth. The Diamond Core compound bow features all you will need to hunt with right from the box.
[collapse]
https://arrows2bows.com/wp-content/uploads/2019/12/1-300x138.png
0
0
superadmin
https://arrows2bows.com/wp-content/uploads/2019/12/1-300x138.png
superadmin
2020-01-06 11:48:00
2020-02-02 08:26:34
Diamond Infinite Edge Compound Bow