Compare Diamond Dead Eye Compound Bow with other bows: See other Diamond Compound bows for sale
Diamond Dead Eye bow for sale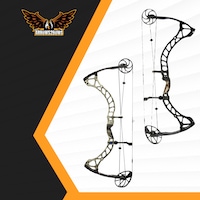 Brace Height: 6.125 "
Axle to Axle Length: 32 "
Draw Length: 26 " - 30 "
Draw Weight: 50 lbs - 70 lbs
IBO Speed: 343 fps
Weight: 3.95 lbs
Dead Eye reviews
The Dead Eye is the quickest bow from Diamond and it is also among the best compound bows with single cam systems. Diamond has built this compound bow to be their best and it surely performs like it. If you are willing to work with an increasingly aggressive draw cycle then you will love this compound bow.
Things to consider before buying
The Diamond Dead Eye has the ability to generate superb kinetic energy and an exceptionally flat trajectory. This compound bow is certainly one of the top-performing bows and it deserves only to be in the hands of someone who knows how to handle speed.
Finish
This compound bow comes with an "invelvet" finish, which is soft to touch and it reduces noises as well. This finish also keeps the bow well protected from any dents, scratches or dings. It is available in two finish patterns, including "Mossy Oak Treestand" and "Blackops."
Riser and limbs
The riser of the Dead Eye has a very aggressive appearance with a single piece, lightweight machined aluminum riser. There is a roller guard that will assist you in the draw cycle and it will also reduce the friction that can reduce speed. The limb of this bow has seven layered laminations to distribute pressure and stress across the entire body evenly.
Grip
The Dead Eye's grip has a very thick neck and is very comfortable for many shooters. This composite grip can stay a bit warmer in cold conditions and is designed ergonomically. The tapered feel, coupled with thick grip, is a recipe for success with most of the shooters.
Who should buy it?
If you have plenty of experience with speed bows, then this is a good choice for you. The draw weight and length are very easy to adjust, and its single-cam construction makes the Diamond Dead Eye an ideal bow for long-range shooting.
Who shouldn't buy it?
This is another bow that shouldn't be in novice hands. It is also not the right choice for ambush hunters.
Pros
343 feet per second shooting speed
Rotating module in the cam system
80-percent let off
Cons
The draw cycle is aggressive
Final Thoughts
If you believe in power and speed, then the Diamond Dead Eye is the compound bow to have in your kit because it's all about speed.
Video Review
Specifications for the Diamond bow: Dead Eye
| | |
| --- | --- |
| Brace Height | 6.125 " |
| Axle to Axle Length | 32 " |
| Draw Length | 26 " – 30 " |
| Draw Weight | 50 lbs – 70 lbs |
| IBO Speed | 343 fps |
| Weight | 3.95 lbs |
| Let-Off | 80% |
3 quick questions about Diamond Dead Eye
Are Diamond Dead Eye bows made in America?
Yes Diamond is a sister company of the American company Bowtech.
How much does a Diamond Dead Eye bow cost?
You'll have to find this bow for sale used.
Do you need a license to own a Diamond Dead Eye bow?
No
More about bows online
Diamond bows for sale
After the bow is at a complete draw, the user will get an anchor point. Perhaps among the most important decisions you will need to make when selecting compound bow is whether to shoot right-handed or left-handed. As a compound bow is under lots of tension all the time that it is preferable to do it this manner. Such a compound bow will function just like a solo, since the idler wheel is going to be replaced with a different cam.
[collapse]
https://arrows2bows.com/wp-content/uploads/2019/12/1-300x138.png
0
0
superadmin
https://arrows2bows.com/wp-content/uploads/2019/12/1-300x138.png
superadmin
2019-12-31 11:48:57
2020-02-02 08:16:01
Diamond Dead Eye Compound Bow