Compare Diamond Core Compound Bow with other bows: See other Diamond Compound bows for sale
Diamond Core bow for sale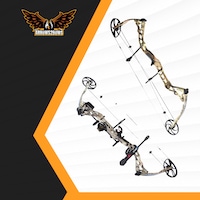 Brace Height: 7.25 "
Axle to Axle Length: 31 "
Draw Length: 25 " - 30 "
Draw Weight: 40 lbs - 70 lbs
IBO Speed: 313 fps
Weight: 3.2 lbs
Core reviews
The Diamond core compound bow comes with adjustments, so it is an excellent option for different kinds of archers. This compound bow also features a single cam construction that makes your life a lot simpler because you don't have to control the timing, as is the case with a double cam system.
Things to consider before buying
This lightweight compound bow features single-cam design, and is very simple to tune. In addition, Diamond has equipped this bow with a RAK (Ready, Aim, Kill) package. This means that this bow is ready for you to take on the field straight out of the box.
Cam system
The Core has a single cam system and you don't have to deal with any timing issues while using the bow. There is a rotating module as well that will enable you to make adjustments to the drawing lengths, according to your needs.
Shooting speed
It might not be the fastest bow on the market, but it still packs quite a punch with 313 fps. Your shots will have a flatter trajectory and this will also allow you to handle the range well. If you use heavier arrows, you will add more power to your shots.
Riser and limbs
Diamond has used machined aluminum in this bow along with a parallel limb configuration. This riser has an appealing look but the grip is just a rounded section that Diamond has rounded into the riser. Therefore, the torque remains well-controlled but the bow is not that comfortable to use.
Who should buy it?
If you are a professional looking to do some practice or short-range shooting then this is a good compound bow to use.
Who shouldn't buy it?
Despite having a single cam system, this bow is not that comfortable to use and therefore, it is not the right choice for beginners.
Pros
Single cam construction
Quick IBO speed
Extremely smooth to draw
Very lightweight
Cons
It is not a target bow
Not great for beginners
Final Thoughts
The Diamond Core is a good choice if you are looking for a bow that handles vibration and sound very well. You will also enjoy a pretty decent shooting speed.
Video Review
Specifications for the Diamond bow: Core
| | |
| --- | --- |
| Brace Height | 7.25 " |
| Axle to Axle Length | 31 " |
| Draw Length | 25 " – 30 " |
| Draw Weight | 40 lbs – 70 lbs |
| IBO Speed | 313 fps |
| Weight | 3.2 lbs |
| Let-Off | 80% |
3 quick questions about Diamond Core
🏹 Who owns Diamond Core bows?
Diamond is a sister company of Bowtech.
🏹 Do you need a license to own a Diamond Core bow?
No
More about bows online
Diamond bows for sale
Every bow differs and manufacturers have various procedures for timing their different unique models. This bow is simple to carry along since it's light weight. This compound bow is among the most durable you can see in the current market presently. The Diamond Core compound bow features all you will need to hunt with right from the box.
Compound bows have a decrease draw weight near the end of the stroke. As a compound bow is under lots of tension all the time that it is preferable to do it this manner. Most compound bows can accomplish a specific selection of draw weights.
[collapse]
https://arrows2bows.com/wp-content/uploads/2019/12/1-300x138.png
0
0
superadmin
https://arrows2bows.com/wp-content/uploads/2019/12/1-300x138.png
superadmin
2020-01-06 11:48:00
2020-02-02 08:12:19
Diamond Core Compound Bow