Compare Diamond Razor Edge Compound Bow with other bows: See other Diamond Compound bows for sale
Diamond Razor Edge bow for sale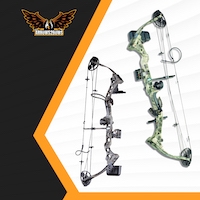 Brace Height: 7 "
Axle to Axle Length: 31 "
Draw Length: 19 " - 29 "
Draw Weight: 15 lbs - 60 lbs
IBO Speed: 308 fps
Weight: 3.8 lbs
Razor Edge reviews
Diamond has designed this bow while keeping in mind people with smaller frames. If you have a small to medium-sized frame, then the Razor Edge is suitable for you. This bow comes with a great blend of speed, quietness and forgiveness.
Things to consider before buying
This rig is suitable for young kids and women with smaller frames. The Diamond Razor Edge will grow with you as you develop new skills with time. The bow comes with a draw length range from 19 inches to 29 inches. And the good thing is that you don't need a bow press for adjustments either.
Draw weight
The Razor Edge compound bow comes with a very impressive draw weight range from 15 to 60 pounds. Therefore, this compound bow is unique. Whether you are a beginner or a professional, you can do a lot with this bow, including both short-range shooting and target practice.
Draw length
The draw length of this compound bow ranges between 19 inches and 29 inches. With a very forgiving brace height of 7 inches, this bow can still produce a speed of 308 FPS. This is due to the dual-cam construction along with the parallel design.
Versatility
This bow is a true symbol of versatility. No matter where you are in skill level, this bow will grow with you. Whether you are a skilled shooter or a beginner, the Razor Edge will keep you in the game for sure.
Who should buy it?
The Diamond Razor Edge is suitable women and archers with small frames at any skill level.
Who shouldn't buy it?
This is not the ideal rig for people with larger frames.  
Pros
Long brace height
Very lightweight
Pleasant axel-to-axel length
Solid back wall
Cons
Draw length is modular
On the slower side
There is some vibration and sound
Final Thoughts
If you are a smaller framed person and want to buy something that grows with you as you improve your skills then the Razor Edge by Diamond is a good choice for you.
Video Review
Specifications for the Diamond bow: Razor Edge
| | |
| --- | --- |
| Brace Height | 7 " |
| Axle to Axle Length | 31 " |
| Draw Length | 19 " – 29 " |
| Draw Weight | 15 lbs – 60 lbs |
| IBO Speed | 308 fps |
| Weight | 3.8 lbs |
| Let-Off | 75% |
3 quick questions about Diamond Razor Edge
🏹 Are Diamond Razor Edge bows made in America?
Yes
🏹 Who owns Diamond Razor Edge bows?
Diamond Achery is owned by Bowtech. They make a lot of great bows both under the brand Bowtech and under the brand Diamond.
🏹 What type of bow is a Diamond Razor Edge bow?
This is a compound bow with a very impressive draw weight range from 15 to 60 pounds.
More about bows online
Diamond bows for sale
Their bows are incredibly robust and the faultless riser slots is a wholly one of a kind design. When you purchase this bow, you won't just receive a compound bow. This bow was created for the beginning archer seeking to have the thrill of hitting the bullseye, in addition to the seasoned archer seeking the biggest game. If it comes down to it, if you're trying to find a high excellent bow at a fantastic price, then the Carbon Cure has got your back.
[collapse]
https://arrows2bows.com/wp-content/uploads/2019/12/1-300x138.png
0
0
superadmin
https://arrows2bows.com/wp-content/uploads/2019/12/1-300x138.png
superadmin
2019-12-31 11:48:58
2020-01-07 12:26:09
Diamond Razor Edge Compound Bow