Compare Diamond Fugitive Compound Bow with other bows: See other Diamond Compound bows for sale
Diamond Fugitive bow for sale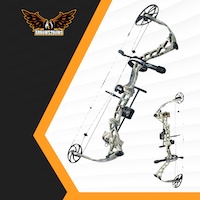 Brace Height: 6.5 "
Axle to Axle Length: 32 "
Draw Length: 26 " - 30 "
Draw Weight: 40 lbs - 70 lbs
IBO Speed: 337 fps
Weight: 3.8 lbs
Fugitive reviews
The Diamond Fugitive is a quick and silent compound bow, which you can thoroughly rely on during your hunting sessions. This compound bow has a shooting speed of 337 feet per second and is ready to use straight out of the box.
Things to consider before buying
Like most of the compound bows from Diamond, this bow also comes with RAK package which means that it is ready to shoot straight out of the box. You don't need to do anything when it comes to the settings of this compound bow. This bow is effortless to set up when you are looking to change different settings too.
Finish
The bow is available in "Mossy Oak Treestand" camo and it has the Diamond invelvet finish that is very soft to touch and it reduces any vibrations and sounds. This finish improves the overall durability of your compound bow, as it will remain safe from any dings or scratches.
Riser
The Diamond Fugitive has a single-piece riser made of machined aluminum, and there are multiple cutouts throughout its length. With these cutouts, the riser loses weight without giving up solidity and strength.
Cams
The Fugitive features a cam system featuring new throttle technology. This system has a wheel and it also bears the bearing assembly at the limb tips. It reduces creep and tension remains equal throughout the strings and cables.
Who should buy it?
This is a perfect bow for hunting, but you can also use it for 3D shooting and recreational games as well. You can also use it from tree stand because of its short axel-to-axel length.
Who shouldn't buy it?
This is not the bow for beginners. You need to have some kind of experience in handling compound bows to use the Diamond Fugitive compound bow.
Pros
Quiet and quick
Ready out of the box with RAK
Durable and soft-to-touch finish
Cons
Hard plastic feels on its grip
Noticeable shock during shots
Final Thoughts
This rig is designed for hunters and it comes ready to shoot from the box. The Diamond Fugitive is fast, silent and lightweight. This is a compound bow that you can not only use on the field, but for practicing as well.
Video Review
Specifications for the Diamond bow: Fugitive
| | |
| --- | --- |
| Brace Height | 6.5 " |
| Axle to Axle Length | 32 " |
| Draw Length | 26 " – 30 " |
| Draw Weight | 40 lbs – 70 lbs |
| IBO Speed | 337 fps |
| Weight | 3.8 lbs |
| Let-Off | 80% |
3 quick questions about Diamond Fugitive
🏹 How much does a Diamond Fugitive bow cost?
This is not a new bow, so you probably have to find it used. Do a quick check here.
🏹 Do you need a license to own a Diamond Fugitive bow?
No.
More about bows online
Diamond bows for sale
[collapse]
https://arrows2bows.com/wp-content/uploads/2019/12/1-300x138.png
0
0
superadmin
https://arrows2bows.com/wp-content/uploads/2019/12/1-300x138.png
superadmin
2020-01-07 11:48:00
2020-02-02 08:24:47
Diamond Fugitive Compound Bow