Compare Diamond Medalist 38 Compound Bow with other bows: See other Diamond Compound bows for sale
Diamond Medalist 38 bow for sale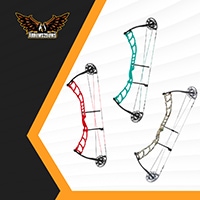 Brace Height: 7.125 "
Axle to Axle Length: 38 "
Draw Length: 23 " - 32.5 "
Draw Weight: 30 lbs - 70 lbs
IBO Speed: 322 fps
Weight: 4.5 lbs
Medalist 38 reviews
The archer industry often focuses on creating beginner bows for hunters and rarely remembers that many archers are just looking for a beginner bow to get into target shooting with. Diamond archery heard the pleas and decided to create the Medalist 38 compound bow for the beginner archer looking to get into target shooting, without paying the premium usually associated with those bows.
Things to Consider Before Buying
The Medalist 38 offers a simplistic target bow for archers who are interested in target shooting but don't want to break the bank. With its 38-inch axel-to-axel length, the Medalist offers a long platform that makes it preferable among other bows for the added stability that comes with a longer bow.
The cam system on this bow is simplistic and effective for what it needs to do and every archer who shoots this bow praises it for how smooth it draws and shoots in the field. The adjustability of the cams allows archers to adjust their draw weight for an easier draw, but many archers claim this bow feels much lighter to draw than it actually is.
The lack of any tuning and silencing features is not necessary on this bow as out of the box it shoots remarkably straight and efficiently, without the need of any additional shooting or vibrational assistance aids.
Who Should Buy it?
The versatility and smoothness the Medalist offers makes it an excellent choice for the archer looking to get into compound bow target shooting. The relatively affordable price and lack of any unnecessary technology makes this bow one of the simplest to just buy and use. Even the experienced target shooter would benefit their skills by using this bow and praise it for its smooth draw and consistent accuracy.
Who Shouldn't Buy it?
The main concern many have with target bows is that they are great for one purpose but may not be ideal for other tasks. Someone looking to hunt with the Medalist could probably do so, but anyone looking for a serious hunting bow should probably look elsewhere. A target archer who wants lots of adjustability and features to fine tune their shots may also feel uncomfortable with the simplicity the Medalist offers in its basic configuration.
Pros
The Medalist provides everything a target archer needs for a respectable price
The draw cycle is incredibly smooth, and light compared to other compound bows
The simple nature of this bow makes it incredibly reliable and easy to shoot
Cons
 Anyone looking to hunt with this bow may lack the necessary features for real hunting performance
This bow only comes in very bright colors and lacks any accessories for target shooting
Final thoughts 
For the archer looking to shoot in the tens without spending thousands of dollars, the Diamond Medalist 38 is the bow for you. It may lack in advanced balancing technology and hunting technology, but it will show you what skill and practice can do with a pure target shooting bow.
Video Review
Specifications for the Diamond bow: Medalist 38
| | |
| --- | --- |
| Brace Height | 7.125 " |
| Axle to Axle Length | 38 " |
| Draw Length | 23 " – 32.5 " |
| Draw Weight | 30 lbs – 70 lbs |
| IBO Speed | 322 fps |
| Weight | 4.5 lbs |
| Let-Off | 80% |
3 quick questions about Diamond Medalist 38
Are Diamond Medalist 38 bows made in America?
How much does a Diamond Medalist 38 bow cost?
Do you need a license to own a Diamond Medalist 38 bow?
More about bows online
Diamond bows for sale
The Diamond Medalist 38 Compound Bow is one of the finest, most advanced bow on the market today. It boasts the very best materials for its construction, with superior craftsmanship. This bow is an automatic bow and can fire with high force, producing a high-velocity arrow that does more damage to your target than any other bow on the market. It is also known as a compound bow because of the features it offers the shooter, such as easy-to-use controls for the trigger and the draw length.
Most people who practice archery will purchase their own equipment from various dealers or manufacturers. In most cases, the bow is the first item to be purchased. However, if you want to spend a little extra on a piece of archery equipment, then a diamond medalist 38 compound bow may be the right choice for you. You get excellent reviews for this bow, and the bow will certainly serve you well for years to come. When you do research on the internet, you will see that people rave about the bow and its different features.
If you have decided to get the Diamond Medalist 38 Compound Bow, you should also consider purchasing a back rest. The back rest is one of the most important accessories in your bow, because it will ensure that the weight of the bow is evenly distributed throughout the entire body of the bow. Having too much weight in one area can reduce your accuracy, which makes the back rest important. This type of back rest is usually sold separately from the bow. Usually, it is purchased separately because the bow's weight distribution will naturally be uneven at times, and you will not need one if you use an automatic bow. For many other bows, you can buy both the back rest and the bow separately.
[collapse]
https://arrows2bows.com/wp-content/uploads/2019/12/1-300x138.png
0
0
superadmin
https://arrows2bows.com/wp-content/uploads/2019/12/1-300x138.png
superadmin
2020-02-06 18:16:12
2020-02-22 14:34:58
Diamond Medalist 38 Compound Bow