Compare Diamond Prism Compound Bow with other bows: See other Diamond Compound bows for sale
Diamond Prism bow for sale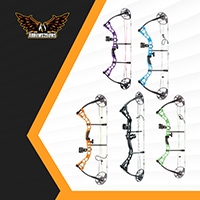 Brace Height: 7 "
Axle to Axle Length: 31 "
Draw Length: 18 " - 30 "
Draw Weight: 5 lbs - 55 lbs
IBO Speed: 295 fps
Weight: 3.2 lbs
Prism reviews
Getting into archery for a child is often an expensive endeavor that requires parents to invest serious time and money into getting their kids on the right track. Diamond archery recognized the need for an inexpensive beginner bow and created the Prism for young archers looking to hone their archery skills.
Things to Consider Before Buying
The Diamond prism is just what a young archer needs to get started on their archery journey. The adjustable draw weight range with an impressive adjustability range of 5-55 pounds means that the Prism can be given to a child at a young age and still stay with them for years to come.
In addition to the adjustable draw weight, the draw length can be adjusted from 18-30 inches, so a young archer can change the draw length of the bow as they get bigger and stronger. The adjustability is easy to work with on the prism because Diamond equipped the Prism with their rotating cam modules for increased adjustability without needing to change out or buy new cams.
The lightweight design of only 3.2 pounds means that archers of all skills and sizes can aim and shoot the bow without having to worry about the fatigue that is normally associated with heavier bows. Its design was meant for beginners and every aspect is intentionally integrated to maximize the effectiveness and longevity of the Prism.
Who Should Buy it?
For the young child looking to get into archery, the Diamond Prism is just the bow for them to learn and grow with. With its multiple levels of adjustability and ability to grow with a young archer, the Prism is the perfect companion for an archer looing to get into archery at a young age and have one bow to see them into their older years. It's possible that the Prism would also be a great companion to the new female archer as the smaller build and lightweight design would be a great learning tool for a learning woman.
Who Shouldn't Buy it?
The Prism is an excellent bow for new archers, but it is not suited for many other archers. Many intermediate archers and hunters with years of experience would not find much fulfillment with the Prism's lower power and compact size. Even for the fully-grown adult looking to get into archery, the smaller size and weight of the Prism would make it a difficult bow to learn on effectively.
Pros
 The Prism has the adjustability for young archers to learn and grow
The rotating cam modules allow easy adjustment for a range of options for shooting
The lower price tag allows for a more justifiable purchase for a new archer
Cons
 The limited power and speed mean this bow is only suited for young beginners
Final thoughts 
For the aspiring archer, the Diamond Prism has the adjustability and features to be the bow that gets a young child on the path to a lifelong love of archery.
Video Review
Specifications for the Diamond bow: Prism
| | |
| --- | --- |
| Brace Height | 7 " |
| Axle to Axle Length | 31 " |
| Draw Length | 18 " – 30 " |
| Draw Weight | 5 lbs – 55 lbs |
| IBO Speed | 295 fps |
| Weight | 3.2 lbs |
| Let-Off | 80% |
3 quick questions about Diamond Prism
🏹 Are Diamond Prism bows any good?
For the young child looking to get into archery it is a great choice.
🏹 What type of bow is a Diamond Prism bow?
This is a compound bow for the younger demographic.
More about bows online
Diamond bows for sale
The Diamond Prism Compound Bow is the latest release from the Diamond Prism Company. This is another new bow company with a fun product for a very limited time. It looks to be similar to the original Prism compound bow from Diamond. It is designed for beginning archers who are looking for a light bow that will allow them to get started with hunting with one of their favorite bow.
It seems that this Diamond Prism Compound Bow comes with a big caveat attached to it. Because of the design and the shape of the bow, they have stated that it can only be used by experienced archers. However, you can buy this with the bow already broken in so you can practice at home before going out to hunt. It also has been shown to be very accurate and there have been no complaints about the bow at all. The best thing about this bow is that even if you do not have much experience with a compound bow you can easily shoot over 50 arrows a minute which is pretty amazing.
One of the best things about the Diamond Prism Compound Bow is that it looks great. It also has an impressive finish to it and the color is like the original Prism. It has been made especially for the beginner shooter. It has a hollow body that allows it to lock. This means that as you hold the bow it will not flex. So as long as you are holding the bow with your palm facing down you will have a secure hold and a very smooth shot.
[collapse]
https://arrows2bows.com/wp-content/uploads/2019/12/1-300x138.png
0
0
superadmin
https://arrows2bows.com/wp-content/uploads/2019/12/1-300x138.png
superadmin
2020-02-06 18:16:12
2020-02-23 07:43:11
Diamond Prism Compound Bow