Compare Bear Carnage Compound Bow with other bows: See other Compound bows for sale
Bear Carnage bow for sale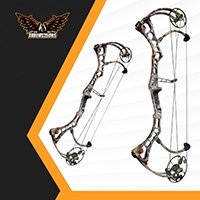 Brace Height: 7.25 "
Axle to Axle Length: 32 "
Draw Length: 25.5 " - 30.5 "
Draw Weight: 40 lbs - 70 lbs
IBO Speed: 345 fps
Weight: 4.0 lbs
Carnage reviews
I believe myself to have the knowledge and experience of handling a hunting bow with care. But one of my bows failed in the middle of a hunt. The limbs just collapsed.
Hunters need reliable, durable shooting equipment. This is where the impressive Bear Carnage compound bow comes in.
Things to Consider Before Buying
The Bear Carnage compound bow comes equipped with an aluminum machined idler wheel and skeleton cam system.
What makes this cam system great, is the fact that it boosts a smooth, fast and efficient draw cycle. Also, it features different modules for easy draw length adjustments (25.5 to 30.5 inches).
With a brace height of 7.25 inches and a let-off of 80 percent, you can hold the Bear Carnage at full draw longer, without exhausting your muscles.
The skeleton machined aluminum riser provides a lightweight and balanced feel. It also improves the overall maneuverability of the bow.
When compared to its close competitor and sibling, the Bear Attack, the Bear Carnage is lighter, faster and more forgiving of shooting errors.
This is a great choice if you are looking for a very durable and compact hunting bow.
Pros and Cons:
Pros:
Skeleton machined aluminum riser is lightweight
Skeleton single cam system supports soft drawing
Very forgiving brace height that boosts accuracy
Higher let-off will not drain your muscles
Cons:
May have a steep valley
Draw length range may be too short for some archers
Final Thoughts
A poor-quality bow can end up with failing limbs, cams and strings. You need a better choice to avoid derailing the bow and hurting yourself.
The Bear Carnage compound bow is made of high-quality materials, has a more forgiving brace height and it is a remarkably fast hunting bow.  
Video Review
Specifications for the Bear bow: Carnage
| | |
| --- | --- |
| Brace Height | 7.25 " |
| Axle to Axle Length | 32 " |
| Draw Length | 25.5 " – 30.5 " |
| Draw Weight | 40 lbs – 70 lbs |
| IBO Speed | 345 fps |
| Weight | 4.0 lbs |
| Let-Off | 80% |
3 quick questions about Bear Carnage
🏹 Are Bear Carnage bows any good?
Yes, but be aware that draw length range may be too short for some archers.
🏹 Who owns Bear Carnage bows?
Bear Archery is own by Escalade Sports located in Gainesville, Florida.
🏹 Do you need a license to own a Bear Carnage bow?
No
More about bows online
Bear bows for sale
When you understand what type of bow you need (how you need to utilize it) try to shoot because many rigs since you can before creating your pick. There are 20 compound bows to select from, even only a youth bow! There are a couple things you want to take into account when selecting a compound bow. Purchasing a compound bow is a huge thing. Compound bows are most frequently utilized as the system of wheels and cables together with sights, makes them simpler to fire. The PSE Nova Compound bow was created with comfort and simplicity of use in mind.
[collapse]
https://arrows2bows.com/wp-content/uploads/2019/12/1-300x138.png
0
0
superadmin
https://arrows2bows.com/wp-content/uploads/2019/12/1-300x138.png
superadmin
2019-12-16 12:09:58
2020-02-02 13:30:53
Bear Carnage Compound Bow