Compare Bear Attack Compound Bow with other bows: See other Compound bows for sale
Bear Attack bow for sale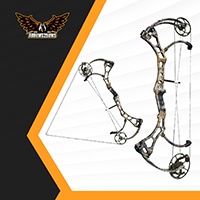 Brace Height: 7 "
Axle to Axle Length: 31 "
Draw Length: 25 " - 30 "
Draw Weight: 40 lbs - 70 lbs
IBO Speed: 340 fps
Weight: 4.2 lbs
Attack reviews
This compound bow offers a combination of speed, power and adjustability. The best part is that you can adjust its draw length without using a bow press. This bow doesn't vibrate during the shots. It has all the traits a hunter wants: quiet, quick, smooth and forgiving.
Things to consider before buying
The Bear Attack compound bow has a very smooth draw cycle and a very firm back wall. The bow has the ability to control hand shock as well, and it gives you maximum accuracy in your shots.
Finish
This bow boasts a high quality and durable finish. There are two options to choose from: "Realtree AP" and "Black Out" from the Shadow series. The "Black" finish is slightly rougher than the "Camo" version.
Limbs
This bow also features Bear's signature Zero Tolerance Limb Pockets. The cups cover the limbs and keep a tight grip right between the limbs. In addition to that, this rig is equipped with quad limbs that are preloaded. These limbs have the tendency to store most kinetic energy and can cut down the recoil.
Riser
There is one-piece riser on this bow made from machined aluminum. The riser design makes the bow very forgiving and you won't experience any vibration in your shots.
Eccentric System
With its 340 fps IBO speed and 80% let off, you can count on a smooth draw. The E cam system transfers maximum energy to the arrow while shooting. You can hold it for longer durations to get the perfect hunting shot.
Who should buy it?
This is a compound bow is designed for experts who love archery and do a lot of target practice and hunting.
Who shouldn't buy it?
This bow is not for beginners and novices. However, being a novice you can use this bow to improve your skills.
Pros
Quick single cam bow
Solid back wall
Accurate and forgiving
Easily adjustable draw length
Very smooth
Cons
Conclusion
This compound bow offers a great combo of speed and power. Smoothness, speed, precision, adjustable draw length and comfort make the Bear Attack compound bow a viable choice for seasonal hunters.
Video Review
Specifications for the Bear bow: Attack
| | |
| --- | --- |
| Brace Height | 7 " |
| Axle to Axle Length | 31 " |
| Draw Length | 25 " – 30 " |
| Draw Weight | 40 lbs – 70 lbs |
| IBO Speed | 340 fps |
| Weight | 4.2 lbs |
| Let-Off | 80% |
3 quick questions about Bear Attack
🏹 Is Bear Attack bows good for beginners?
Yes – it is good Youth Compound Bow.
🏹 How much does a Bear Attack bow cost?
You can fast check it is sold used here on our site.
🏹 Do you need a license to own a Bear Attack bow?
No
More about bows online
Bear bows for sale
Your Bear bow deserves the finest and we've got a complete field of custom replacement strings to acquire the absolute most out of it. Bear Compound bows have come a ways from the conventional roots of archery. Still, there's an easy and efficient approach to recognize a Bear compound bow.
[collapse]
https://arrows2bows.com/wp-content/uploads/2019/12/1-300x138.png
0
0
superadmin
https://arrows2bows.com/wp-content/uploads/2019/12/1-300x138.png
superadmin
2019-12-07 12:09:58
2020-02-02 13:25:00
Bear Attack Compound Bow