Compare Bear Marshal Compound Bow with other bows: See other Compound bows for sale
Bear Marshal bow for sale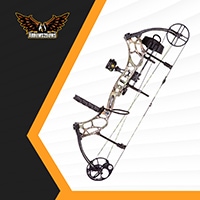 Brace Height: 6.75 "
Axle to Axle Length: 31.125 "
Draw Length: 23 " - 30 "
Draw Weight: 50 lbs - 70 lbs
IBO Speed: 320 fps
Weight: 4.0 lbs
Marshal reviews
Having a poorly constructed bow can seriously harm your shooting abilities and even put your life in danger. That is why it's always recommended to invest in good quality bows, and there is no one that makes bows like Bear. With advanced specifications and top-of-the-line designs, these bows have continued to enhance the shooting experience of millions. One of their best products is the Bear Marshal compound bow, which can help you perfect your shooting techniques and make your hobby more enjoyable. 
Things to consider before buying
The Bear Marshal is an excellent bow for shooters who want a smaller axle-to-axle model. It is a dedicated hunting model with remarkable performance and excellent quality. Its many features ensure that shooters find it entirely satisfactory. The following features will help you decide if this bow is for you:
Wide range of finish options
The Bear Marshal is available in a wide range of colors, thus providing shooters with some exciting non-traditional options. In addition to typical camo, this bow is also available in Olive, Shadow, Treat in Sand, and Orange finishes. No matter which option you choose, you will get a sturdy and robust bow with a really nice finish.
Understated performance
Combined with the Ready-to-Hunt package, this bow offers exemplary performance. The Trophy Ridge accessories perfectly complement this bow and take the guesswork out of optimizing it. This is particularly advantageous for beginners or shooters who do not want to trouble themselves with the hassle of selecting accessories.  
Simple operation
This is a great performing hunting bow designed with the simplicity of a single cam. This S7 cam system can be easily adjusted without any bow press or special tools. This feature makes the Marshal easy to use, particularly for beginners who are not used to tweaking their bows on a regular basis.
Pros
Designed with engineering advancements and forgiving draw cycles
Lethal, well-controlled power because of flared quad limbs
Smooth S7 cams eliminate the need of a bow press for adjustments
Advanced grip design enhances accuracy by eliminating hand torque
Cons
Delivers a speed of 320 fps, which is a bit low
Final thoughts
The Bear Marshal compound bow is a nice, compact hunting bow that is perfect for shooting in tight locations or where space is limited. Although with the speed of 320 fps, it is a bit slow as compared to other Bear bows, it still packs enough power to take care of big game animals. Its ergonomic design, fantastic value, and excellent performance make it very difficult to find this bow lacking in any way.
Video Review
Specifications for the Bear bow: Marshal
| | |
| --- | --- |
| Brace Height | 6.75 " |
| Axle to Axle Length | 31.125 " |
| Draw Length | 23 " – 30 " |
| Draw Weight | 50 lbs – 70 lbs |
| IBO Speed | 320 fps |
| Weight | 4.0 lbs |
| Let-Off | 80% |
3 quick questions about Bear Marshal
Are Bear Marshal bows any good?
Who owns Bear Marshal bows?
Do you need a license to own a Bear Marshal bow?
More about bows online
Bear bows for sale
The bow certainly resembles a Hoyt with its distinctive riser design. It also comes in a number of finishes with the most popular finishes being RealTree Xtra camo as well as shadow, sand and olive. Bear's whitetail hunter compound bow is quite a versatile bow that is chiefly liked and used by the hunters due to its attractive capabilities.
[collapse]
https://arrows2bows.com/wp-content/uploads/2019/12/1-300x138.png
0
0
superadmin
https://arrows2bows.com/wp-content/uploads/2019/12/1-300x138.png
superadmin
2019-12-08 12:09:59
2020-02-03 16:37:19
Bear Marshal Compound Bow