Compare Bear Strike Compound Bow with other bows: See other Compound bows for sale
Bear Strike bow for sale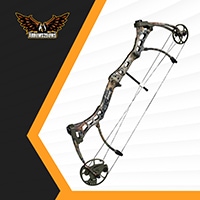 Brace Height: 7.75 "
Axle to Axle Length: 30 "
Draw Length: 26 " - 30 "
Draw Weight: 40 lbs - 70 lbs
IBO Speed: 310 fps
Weight: 3.9 lbs
Strike reviews
The Bear Archery Strike compound bow is the total package, with the virtually silent power that Bear has become known for. It a smooth, quiet bow that combines speed and accuracy with great forgiveness, making every shot count. It's an incredibly popular bow among people who appreciate Bear innovation.
Overview
The Bear Strike is a bow that is so forgiving that it improves the accuracy of even experienced hunters. It's the precursor to Bear's iconic Legion, and offers many of the same features. The flared quad limbs distribute stress evenly for incredible smoothness and durability.
The single cam offers easy adjustments and an incredibly smooth draw, without requiring additional modules or a bow press for adjustments. Single cams are also lower-maintenance, and require almost no tuning.
Dual arc string suppressors and zero tolerance limb pockets counter vibration, eliminating hand shock and making this bow incredibly quiet. While the Strike isn't as fast as some competitors, it still delivers enough power to every shot, and it may be worth trading a little speed for the improved accuracy of this bow.
The high brace height and letoff make the Strike friendly for beginners, but seasoned archers will appreciate the accuracy, forgiveness, and speed of the Strike. It is available in Realtree APG camo finish.
Pros
Incredibly forgiving
Very smooth throughout the draw cycle
Whisper quiet and shock-free
Low maintenance and easy to adjust
Great performer for the price
Cons
Single cam systems are easier to live with, but do sacrifice a little speed
Only one finish option
Conclusion
The Bear Strike is a performance bow that is easy and forgiving enough for a beginner, but has the speed and power that experienced hunters are looking for. It has an incredibly smooth draw, and the high let-off lets you take the perfect shot every time. People love how quiet, comfortable, and accurate it is to shoot with the Strike. It's no wonder that this model was revisited by Bear when it came time to introduce the Legion – the Strike is a crowd-pleaser. It's a powerful bow that is a pure pleasure to shoot, and a great introduction to the sport
Video Review
Specifications for the Bear bow: Strike
| | |
| --- | --- |
| Brace Height | 7.75 " |
| Axle to Axle Length | 30 " |
| Draw Length | 26 " – 30 " |
| Draw Weight | 40 lbs – 70 lbs |
| IBO Speed | 310 fps |
| Weight | 3.9 lbs |
| Let-Off | 80% |
3 quick questions about Bear Strike
🏹 How much does a Bear Strike bow cost?
You will have to find it used, so you should be able to find it for a good price.
🏹 What type of bow is a Bear Strike bow?
Easy and forgiving compound bow.
More about bows online
Bear bows for sale
The bow certainly resembles a Hoyt with its distinctive riser design. It also comes in a number of finishes with the most popular finishes being RealTree Xtra camo as well as shadow, sand and olive. Bear's whitetail hunter compound bow is quite a versatile bow that is chiefly liked and used by the hunters due to its attractive capabilities.
[collapse]
https://arrows2bows.com/wp-content/uploads/2019/12/1-300x138.png
0
0
superadmin
https://arrows2bows.com/wp-content/uploads/2019/12/1-300x138.png
superadmin
2019-12-03 12:10:00
2020-01-05 18:52:16
Bear Strike Compound Bow