Compare Bear Species Compound Bow with other bows: See other Compound bows for sale
Bear Species bow for sale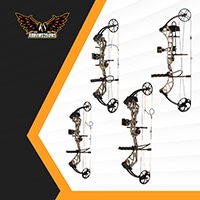 Brace Height: 6.75 "
Axle to Axle Length: 31 "
Draw Length: 25 " - 32 "
Draw Weight: 55 lbs - 70 lbs
IBO Speed: 320 fps
Weight: 4.0 lbs
Species reviews
So many beginner bows are light on features and don't really perform well in real-world scenarios. It's no surprise that these bows sometimes frustrate a beginner and dim their excitement for archery. The Bear Species changes all that, with a bow designed for adult beginners, with great accuracy and forgiveness, and a full suite of performance accessories, at an affordable price.
Overview
The Bear Archery Species has two limb configurations, depending on the draw weight. Either option features split limbs made of Bear's Endurafiber technology, that distributes weight throughout the limb, improving accuracy and consistency. The riser has more than ten cutouts, which reduce weight and improve stability in cross winds. The Bear Lock Down Pocket system has four components: the limb boot, half round clamp, lock down washer, and tangs, to provide the most accurate alignment in the industry today.
The Species has a single cam, for low maintenance and an incredibly smooth draw throughout the cycle. The cam can be easily adjusted without a bow press or modules. The combination of smooth draw, perforated riser, solid wall, and 80% let-off make it incredibly easy to hold on target in any conditions, which is great for beginners.
The Species comes with a fantastic accessory package that include a 4-pin sight, a whisker biscuit rest, a 5-arrow quiver, a peep sight, and a nock loop. It is available in Realtree Edge, Kryptek Highlander, Truetimber Strata, or Veil Stoke finishes.
Pros
Compact and powerful
Extremely forgiving and accurate
Smooth and quiet, with virtually no shock or vibration
Cons
Some experienced hunters may want a faster bow
Conclusion
The Bear Archery Species Compound Bow is a beginner's bow that doesn't skimp on power or features. It's designed to improve accuracy and give great forgiveness, with a single cam that provides an exceptionally smooth draw and seldom needs adjustment or tuning after initial setup. It has all of Bear's latest innovative materials and technologies, simplified. The addition of a complete accessory package, included in the affordable price tag, make this a great choice for people new to the sport.
Video Review
Specifications for the Bear bow: Species
| | |
| --- | --- |
| Brace Height | 6.75 " |
| Axle to Axle Length | 31 " |
| Draw Length | 23 " – 30 " |
| Draw Weight | 45 lbs – 70 lbs |
| IBO Speed | 320 fps |
| Weight | 4.0 lbs |
| Let-Off | 80% |
3 quick questions about Bear Species
Are Bear Species bows any good?
This is a great beginner bow. If you already have experience bowhunting, you might want a different one with a little more speed.
How much does a Bear Species bow cost?
This bow has a good beginner price.
What type of bow is a Bear Species bow?
This is a extremely forgiving and accurate compound bow. See the other pros about this bow here.
More about bows online
Bear bows for sale
The bow certainly resembles a Hoyt with its distinctive riser design. It also comes in a number of finishes with the most popular finishes being RealTree Xtra camo as well as shadow, sand and olive. Bear's whitetail hunter compound bow is quite a versatile bow that is chiefly liked and used by the hunters due to its attractive capabilities.
[collapse]
https://arrows2bows.com/wp-content/uploads/2019/12/1-300x138.png
0
0
superadmin
https://arrows2bows.com/wp-content/uploads/2019/12/1-300x138.png
superadmin
2020-01-03 12:09:00
2020-01-05 18:35:19
Bear Species Compound Bow