Compare Bear Threat Compound Bow with other bows: See other Compound bows for sale
Bear Threat bow for sale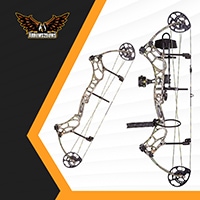 Brace Height: 6.25 "
Axle to Axle Length: 32.25 "
Draw Length: 25 " - 30 "
Draw Weight: 50 lbs - 70 lbs
IBO Speed: 330 fps
Weight: 4.0 lbs
Threat reviews
The Bear Threat delivers blazing speeds, innovative technology, and reliable performance at an affordable price. It's an all-around hunting bow, great for a shooters of a wide range of skill levels and hunting scenarios, and for shooters who prefer a smooth draw and generous let-off to blazing speeds. It's a basic bow that performs like a champion.
Overview
The Bear Threat is an incredibly smooth, easy, enjoyable compound bow for the purchase price. Dual string stops on the riser absorb vibration, directing it away from the shooter's hand. It has Flare Quad split limbs with zero tolerance limb pockets for great stability and reduced vibration.
The threat has the Bear ES hybrid cam system, with a rotating module for adjusting the draw length. The draw cycle is smooth, with easy transitions, and it's a well-balanced, stable bow. The high let-off gives less experienced hunters extra time to improve accuracy. Shots are quiet, with minimal vibration and no hand shock. It has the Bear Advanced Grip, which is thin and comfortable, with a good feel. However, because it's integrated into the riser, it may get cold in some temperatures, and some archers may want to add an after-market grip. 
Pros
Stable, well-balanced, and reliable
Very smooth shooting bow
Good accuracy and forgiveness
More affordable than many Bear bows
Cons
Has a cable slide system instead of a roller system
Grip is integrated in the riser, and the aluminum may get cold to the touch in weather
Comes without dampeners, although it remains fairly quiet
Slow fps for the brace height
Conclusion
The Bear Threat is a solid performer and a pleasure to shoot, and is a great choice for hunters on a budget. While it may be lacking in some features, the lower price tag may make it worth adding a few accessories. Competition shooters may want another model, but it still performs well as a bare hunting bow. The Threat is practical, usable, affordable and reliable, which may be all some people are looking for.
Video Review
Specifications for the Bear bow: Threat
| | |
| --- | --- |
| Brace Height | 6.25 " |
| Axle to Axle Length | 32.25 " |
| Draw Length | 25 " – 30 " |
| Draw Weight | 50 lbs – 70 lbs |
| IBO Speed | 330 fps |
| Weight | 4.0 lbs |
| Let-Off | 80% |
3 quick questions about Bear Threat
🏹 Is the Bear Threat bow good for beginners?
A great choice for hunters on a budget.
🏹 How much does a Bear Threat bow cost?
You should be able to find it for a good price.
🏹 Do you need a license to own a Bear Threat bow?
No
More about bows online
Bear bows for sale
The bow certainly resembles a Hoyt with its distinctive riser design. It also comes in a number of finishes with the most popular finishes being RealTree Xtra camo as well as shadow, sand and olive. Bear's whitetail hunter compound bow is quite a versatile bow that is chiefly liked and used by the hunters due to its attractive capabilities.
[collapse]
https://arrows2bows.com/wp-content/uploads/2019/12/1-300x138.png
0
0
superadmin
https://arrows2bows.com/wp-content/uploads/2019/12/1-300x138.png
superadmin
2019-12-03 12:10:00
2020-01-05 19:00:25
Bear Threat Compound Bow