Compare Bear Anarchy Compound Bow with other bows: See other Compound bows for sale
Bear Anarchy bow for sale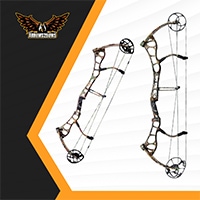 Brace Height: 7.25 "
Axle to Axle Length: 35.5 "
Draw Length: 26.5 " - 31.5 "
Draw Weight: 40 lbs - 70 lbs
IBO Speed: 330 fps
Weight: 4.0 lbs
Anarchy reviews
I used to shoot a 30" axle to axle bow, but my pin float was terrible, even if I relaxed my muscles as much as I could.
I knew this is a problem I had to fix fast because all my groups were bad past the 30-yard mark. At times I had to punch the trigger the moment the pin was on top of the target.
The Bear Anarchy compound bow is 35.25 inches axle to axle, and does a great job addressing the pin floating issue.
Things to Consider Before Buying
This bow features a 35.25-inch ATA, a 7.25-inch brace height, a let-off of 80 percent, and shoots fast IBO speeds of up to 330 feet per second.
The Bear Anarchy compound bow features a single cam system with a rotating module that allows you to easily adjust the draw length from 25 to 31.5 inches.
The riser has a rounded look with unique cutouts, which helps to reduce the overall weight of the bow. The handle is also engineered to accept shorter limbs, which helps to minimize reflex.
It comes with an exceptional silencing package, which includes dual string suppressors that are integrated into the riser for dampening vibration and creaks.
When compared it to its close competitor (Bear Carnage), the Bear Anarchy is lightweight, has a slightly longer peak draw length and is longer axle to axle.
This is a great choice if you are looking for a more stable bow that is not only forgiving, but also allows you to float the pin conveniently for precision.
Pros:
A stable and a forgiving bow
Tool-free draw length adjustment
Dual string suppressors for vibration dampening
Advanced grip that is torque-free
Available in multiple colors/patterns for preference
Cons:
No adjustable let-off
May not be suitable for small figured people
Conclusion
The Bear Anarchy compound bow gives you an acceptable pin float. This ensures your group of shots is not bad beyond the 30-yard mark.
What makes this bow stand out is the forgiving brace height, stability, and the ingenious vibration and noise dampening system.
Video Review
Specifications for the Bear bow: Anarchy
| | |
| --- | --- |
| Brace Height | 7.25 " |
| Axle to Axle Length | 35.5 " |
| Draw Length | 26.5 " – 31.5 " |
| Draw Weight | 40 lbs – 70 lbs |
| IBO Speed | 330 fps |
| Weight | 4.0 lbs |
| Let-Off | 75% |
3 quick questions about Bear Anarchy
Is the Bear Anarchy bow good for beginners?
Yes, it is a great choice for beginners!
How much does a Bear Anarchy bow cost?
You will probably have to buy it used. You can check the price here on our site.
More about bows online
Bear bows for sale
In order to avoid injury and make sure correct shooting strategies, it's critical to be in a position to keep the bow fully drawn for at the very least a minute without shaking and also to draw the compound bow smoothly at any instant of the entire draw cycle. Perhaps among the most important decisions you will need to make when deciding on a compound bow is whether to shoot right-handed or left-handed. A proper compound bow ought to be designed with an adjustable draw length that permits the user to have a genuine shoot so.
[collapse]
https://arrows2bows.com/wp-content/uploads/2019/12/1-300x138.png
0
0
superadmin
https://arrows2bows.com/wp-content/uploads/2019/12/1-300x138.png
superadmin
2019-12-03 12:09:57
2020-02-01 16:35:18
Bear Anarchy Compound Bow