Compare Bear Apprentice 2 Compound Bow with other bows: See other Compound bows for sale
Bear Apprentice 2 bow for sale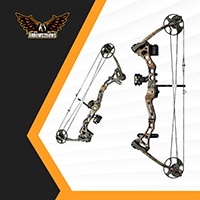 Brace Height: 6.125 "
Axle to Axle Length: 27.5 "
Draw Length: 15 " - 27 "
Draw Weight: 15 lbs - 60 lbs
IBO Speed: 265 fps
Weight: 2.9 lbs
Apprentice 2 reviews
I have been practicing archery since I was 8 years old. One thing I remember is that as an 8-year-old kid, I had a pretty big bow. I wasn't able to aim and shoot easily because I was too busy maintaining control over my huge bow.
But your little one doesn't need to go through all this trouble to learn how to use a compound bow.
The Bear Apprentice 2 is a pretty good choice in this regard. Read on to find more about this decent compound bow for newbies.
Things to consider before buying
This compound bow is the perfect choice to consider for children, women, or anyone with a smaller frame. Anybody lower than 5'6" can use this bow comfortably. The best part is that you can conveniently make adjustments to its draw weight and length. 
However, there are a few things that you need to keep in mind before buying the Bear Apprentice 2 compound bow.
Assembling
If you are a novice, I would definitely suggest buying a compound bow that comes assembled and ready to shoot. You won't have to attach or screw in anything at all. This is the case with Bear Apprentice 2, as it comes ready to use straight out of the box. You can consult the manual that comes with your purchase to determine how to change the draw length and weight by turning the limb bolts. 
Cams
This bow features a twin-cam system and a couple of wheels. The synced cams allow you to shoot your arrow in a straight line. Therefore, this bow will enable you to improve your skills, accuracy and force distribution.
Shooting Speed
One thing I love about this compound bow is that, even if it's made for novices, it still packs quite a punch. This bow has a shooting speed of 265 fps. You can only achieve this speed with a 60 lbs. draw weight and a 27-inch draw length.
Despite the fact that this bow has a good shooting speed, this shouldn't be an area of your concern if you are a beginner. You should only focus on improving your skills at this point.
Limbs & Riser
The Apprentice 2 features split limbs with an aluminum riser. The bow has Zero-Tolerance limb pockets.  With this technology, the limbs remain firmly in place. You also get some wiggle room when you're shooting. It can reduce the transfer of energy to the bow's riser and will reduce any vibration that can negatively influence the precision.
Grip
The grip of this compound bow is pretty comfortable. Bear Archery has designed it in such a manner that it feels right in small as well as medium-sized palms.
Who should buy it?
This is the best bow for kids, women and small-framed men. As it is ready to use straight out of the box, it is a good choice for beginners as well.
Who shouldn't buy it?
This is not the right kind of bow if you have large palms. You might also not find it a good choice if you are an expert hunter.
Pros
Best for beginners
Fully adjustable draw weight and length
Free from vibrations
Good value for money
Cons
Not the best choice for long draw length
Conclusion
If you have a short frame and look to improve your skills in archery then the Bear Apprentice 2 is the right kind of bow for you. This is a good quality compound bow that is meant to improve your skills.
Video Review
Specifications for the Bear bow: Apprentice 2
| | |
| --- | --- |
| Brace Height | 6.125 " |
| Axle to Axle Length | 27.5 " |
| Draw Length | 15 " – 27 " |
| Draw Weight | 15 lbs – 60 lbs |
| IBO Speed | 265 fps |
| Weight | 2.9 lbs |
| Let-Off | 70% |
3 quick questions about Bear Apprentice 2
🏹 Are Bear Apprentice 2 bows made in America?
Bear Archery moved manufacturing from Michigan to Gainesville, Florida in 1978
🏹 Who owns Bear Apprentice 2 bows?
In 2003 Escalade Sports acquired Bear Archery Inc.
🏹 Do you need a license to own a Bear Apprentice 2 bow?
No
More about bows online
Bear bows for sale
Only very tall men and women will require a bow with a greater draw length. The very small quantity of hand shock this bow has can be made better with a stabilizer. The Apprentice two compound bow now includes a bonus 10lbs extra and a draw length that will fit so much as the fastest growing child.
[collapse]
https://arrows2bows.com/wp-content/uploads/2019/12/1-300x138.png
0
0
superadmin
https://arrows2bows.com/wp-content/uploads/2019/12/1-300x138.png
superadmin
2019-12-07 12:09:57
2020-02-02 13:19:15
Bear Apprentice 2 Compound Bow