Compare Bear Ultra Light Compound Bow with other bows: See other Compound bows for sale
Bear Ultra Light bow for sale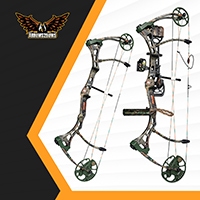 Brace Height: 6 "
Axle to Axle Length: 29.75 "
Draw Length: 22 " - 28 "
Draw Weight: 40 lbs - 50 lbs
IBO Speed: 280 fps
Weight: 3.2 lbs
Ultra Light reviews
The Bear Ultra Light Compound Bow was designed for archers who need a lighter draw weight, shorter draw length, and smaller compound bow, but who don't want to sacrifice speed, precision, or performance.
Overview
The first thing some people notice about the Bear Ultra Light is that it seems to have a slower IBO speed than other bows, but it's worth remembering that other bows are tested for high IBO speeds at 70 pounds. For a bow that caps at a 50 pound weight range, 280fps is impressive. In fact, everything about the Bear Ultra Light is impressive.
At less than 30 inches ATA and just over 3 pounds in weight, this bow delivers incredible speed in near silence, with a silky smooth draw. It has a perimeter-weighted modular single cam for smooth feel throughout the draw cycle.
The flared quad limbs distribute pressure evenly and are incredibly durable. It has both dual arc string suppressors and axle-mounted weighted dampeners to virtually eliminate vibration, shock, and noise.
It also comes with Bear's Contra-Band HP strings and cables, made from Dynaflight that eliminates string stretch and rotation. With an 80% let-off and reduced weight all around, the Ultra Light makes it incredibly easy to take your time and get the perfect shot, every time.
Pros
Compact and ultra-light weight
Incredibly smooth draw cycle
Noise, shock, and vibration free
Great speed for the size
Comes with high-quality strings and cables
Cons
Only comes in one color (Realtree APG HD Camo)
Conclusion
For hunters who need a lighter bow or shorter draw length, you get better performance from a bow that was designed for that size, rather than getting a bigger bow and adjusting it downwards. By choosing a smaller bow, you get a bow that was designed for those specs and maximizes its power at that size. For hunters who are small in stature or need to operate silently in dense cover, the Bear Ultra Light is a great choice. It's small, light, silent, and powerful. It's made to fit those who need a lighter bow or shorter draw length range, but who still want an advanced bow. The 6-inch brace height isn't ideal for beginners; instead it delivers the speed and power that experienced hunters are looking for.
Specifications for the Bear bow: Ultra Light
| | |
| --- | --- |
| Brace Height | 6 " |
| Axle to Axle Length | 29.75 " |
| Draw Length | 22 " – 28 " |
| Draw Weight | 40 lbs – 50 lbs |
| IBO Speed | 280 fps |
| Weight | 3.2 lbs |
| Let-Off | 80% |
3 quick questions about Bear Ultra Light
🏹 Are Bear Ultra Light bows made in America?
Yes the company is located in Florida.
🏹 How much does a Bear Ultra Light bow cost?
This is an older bow, so you would have to find it used.
🏹 Do you need a license to own a Bear Ultra Light bow?
No
More about bows online
Bear bows for sale
The bow certainly resembles a Hoyt with its distinctive riser design. It also comes in a number of finishes with the most popular finishes being RealTree Xtra camo as well as shadow, sand and olive. Bear's whitetail hunter compound bow is quite a versatile bow that is chiefly liked and used by the hunters due to its attractive capabilities.
[collapse]
https://arrows2bows.com/wp-content/uploads/2019/12/1-300x138.png
0
0
superadmin
https://arrows2bows.com/wp-content/uploads/2019/12/1-300x138.png
superadmin
2020-01-03 12:10:00
2020-01-06 12:02:45
Bear Ultra Light Compound Bow