Compare Bear Outbreak Compound Bow with other bows: See other Compound bows for sale
Bear Outbreak bow for sale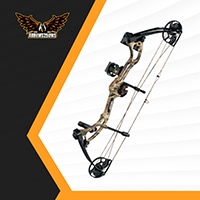 Brace Height: 7.25 "
Axle to Axle Length: 29.25 "
Draw Length: 16 " - 30 "
Draw Weight: 15 lbs - 70 lbs
IBO Speed: 308 fps
Weight: 3.5 lbs
Outbreak reviews
The Bear Archery Outbreak is one of the most versatile, adjustable compound bows on the market, with a whopping 55 pounds of draw weight adjustment, and full 14 inches of draw length adjustment. This small, light bow can fit almost any body and almost any shooting conditions, making it incredibly versatile. It's an ideal bow for a young archer, because it can grow with their skills over time.
Overview
The Outbreak is a small, lightweight bow, but with speed and power that make it much more than a toy. For those who want a compact, 70 pound bow for hunting in a ground blind or overgrowth, or those who want a 40 pound bow with a forgiving brace height and a long valley while they learn to shoot, the Bear Outbreak can do it all.
The Dual Cam system allows you to adjust the draw length in 1 inch increments without needing a bow press or modules. The Max Pre-Load Quad Limbs are incredibly durable. It comes with a string stop, but no string suppressors. It has a smooth draw, but does have a noticeable hump, and a little shock at the shot. It has a solid back wall, with a long valley with lots of room for creep.
The high brace height and 80% let-off make this an extremely forgiving bow, and, at 308fps, you still get plenty of speed. Because it's such a versatile bow, it's worth mentioning that the IBO speed on the Outbreak is measured at 70 pounds and a 30 inch draw; speed will fall off quickly with reductions in draw weight and length.  It is only available in RealTree ATP color.
Pros
Incredibly versatile to fit a young archer as they grow, or a variety of different archers with simple adjustments in the field
Smooth, comfortable, and forgiving to shoot
Compact and lightweight
Rugged and durable
Cons
As with so many Bear bows, people wish for more options in colors and finishes
It's a quieter bow at lower draw weights, but doesn't have string suppressors. Adding a stabilizer will add some weight
Conclusion
The Bear Outbreak is a great choice for a young or beginning archer, who can adjust it as needed as their skills grow. It's durable enough to last for years, and still has the power and speed to be a good hunting or competition bow.
Video Review
Specifications for the Bear bow: Outbreak
| | |
| --- | --- |
| Brace Height | 7.25 " |
| Axle to Axle Length | 29.25 " |
| Draw Length | 16 " – 30 " |
| Draw Weight | 15 lbs – 70 lbs |
| IBO Speed | 308 fps |
| Weight | 3.5 lbs |
| Let-Off | 80% |
3 quick questions about Bear Outbreak
🏹 Are Bear Outbreak bows made in America?
Yes – Bear Archery moved manufacturing from Michigan to Gainesville, Florida in 1978.
🏹 What type of bow is a Bear Outbreak bow?
It is a lightweight compound bow.
More about bows online
Bear bows for sale
The bow certainly resembles a Hoyt with its distinctive riser design. It also comes in a number of finishes with the most popular finishes being RealTree Xtra camo as well as shadow, sand and olive. Bear's whitetail hunter compound bow is quite a versatile bow that is chiefly liked and used by the hunters due to its attractive capabilities.
[collapse]
https://arrows2bows.com/wp-content/uploads/2019/12/1-300x138.png
0
0
superadmin
https://arrows2bows.com/wp-content/uploads/2019/12/1-300x138.png
superadmin
2019-12-03 12:09:59
2020-02-03 19:08:53
Bear Outbreak Compound Bow