Compare Bear Rumor Compound Bow with other bows: See other Compound bows for sale
Bear Rumor bow for sale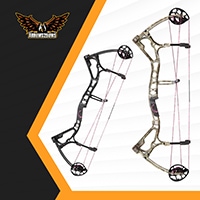 Brace Height: 6.5 "
Axle to Axle Length: 30.25 "
Draw Length: 23.5 " - 27 "
Draw Weight: 30 lbs - 60 lbs
IBO Speed: 300 fps
Weight: 3.6 lbs
Rumor reviews
The Bear Rumor is specifically designed for the female archer, as the pink accents on the string and the grip suggest. It is compact, lightweight, comfortable and accurate, so it's a great choice for women, young archers, or anyone who wants a light, fast, easy-to-use bow.
Overview
The Rumor has Bear's famous forged aluminum riser for strength and durability, without added weight and mass. The Max-Preloaded Bear Quad Limbs add power to every shot, with Zero Tolerance Limb Pockets that absorb shock and dampen vibration. It comes with the Bear 4×4 roller guard and the Dual Offset Adjustable String Suppressors for incredibly quiet shooting.
The Rumor also has Bear's FH2 Synchronized Hybrid Cam system designed specifically for female archers. This cam system offers easy draw-length adjustment without using a bow press, and creating an exceptionally smooth draw cycle at any draw length. This incredibly smooth draw transitions into a very good valley, with 75%  let-off for great accuracy. It doesn't have a great back wall; it's a bit loose and spongy. The grip is slightly smaller than standard grips, to better fit in the hand of a woman or a young person. It is available in RealTree Max1 or Shadow/black colors.
Pros
Incredibly smooth draw cycle and easy to shoot
Compact and lightweight
Very quiet
Accurate and forgiving
Comfortable and versatile
Cons
Not very fast, and may not deliver speeds promised in the specs
Soft back wall
Expensive
Conclusion
The Bear Rumor Compound Bow has a lot of special features designed just for women. From the slightly smaller grip, with the removable over-mold with pink accents, to the FH2 Cam System designed specifically to transfer more power and efficiency into every shot, there's a lot here for a female archer to love. However, this bow is a bit low on speed and power for a bow in its price range, and other compound bows designed for women deliver comparable performance at a lower price. For women who love Bear Archery and want one of their own, the Rumor is a fantastic choice. 
Video Review
Specifications for the Bear bow: Rumor
| | |
| --- | --- |
| Brace Height | 6.5 " |
| Axle to Axle Length | 30.25 " |
| Draw Length | 23.5 " – 27 " |
| Draw Weight | 30 lbs – 60 lbs |
| IBO Speed | 300 fps |
| Weight | 3.6 lbs |
| Let-Off | 75% |
3 quick questions about Bear Rumor
🏹 Are Bear Rumor bows made in America?
Yes they sure are. Bear Archery moved manufacturing from Michigan to Gainesville, Florida in 1978.
🏹 How much does a Bear Rumor bow cost?
You might have to look after a used, so it depends.
🏹 Do you need a license to own a Bear Rumor bow?
No
More about bows online
Bear bows for sale
The bow certainly resembles a Hoyt with its distinctive riser design. It also comes in a number of finishes with the most popular finishes being RealTree Xtra camo as well as shadow, sand and olive. Bear's whitetail hunter compound bow is quite a versatile bow that is chiefly liked and used by the hunters due to its attractive capabilities.
[collapse]
https://arrows2bows.com/wp-content/uploads/2019/12/1-300x138.png
0
0
superadmin
https://arrows2bows.com/wp-content/uploads/2019/12/1-300x138.png
superadmin
2019-12-03 12:09:59
2020-01-05 15:31:15
Bear Rumor Compound Bow