Compare Bear Showdown Compound Bow with other bows: See other Compound bows for sale
Bear Showdown bow for sale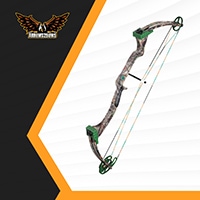 Brace Height: 8.75 "
Axle to Axle Length: 31.75 "
Draw Length: 25 " - 31 "
Draw Weight: 50 lbs - 70 lbs
IBO Speed: 286 fps - 290 fps
Weight: 3.8 lbs
Showdown reviews
The Bear Showdown compound bow is a great bow for beginners, with good adjustability and a forgiving brace height. It's a no-frills bow, offered at an affordable price, and would serve as an excellent introduction to archery.
Overview
The Bear Showdown is one of Bear Archery's earlier compound bows, launched in 2008, and it doesn't have some of the advanced features the company has gone on to introduce in later models. It is made of rigid machined aircraft aluminum that minimizes flex for greater accuracy and forgiveness. The compression quad limbs have rubber isolation boots to reduce vibration. It has a fast, aggressive single cam that allows draw length adjustments in 1 inch increments from 25-31 inches, along with ½ inch post adjustments.
The Showdown holds well at the wall, with a forgiving 80% let-off. There is quite a bit of vibration and hand shock after shooting, and it does have a noticeable hump in the valley. The grip has a two piece side plate design, and is wide and comfortable. It is available in Realtree APG Camo color.
Pros
Good adjustability
Forgiving brace height and let-off for greater accuracy and control
Simple, basic, and affordable
Cons
Only one color option
Requires a bow press to adjust the draw length
An experienced archer would want to add a number of accessories to this bow, like string stabilizers and suppressors, string leeches, and limb savers, which would increase the weight and price of this bow
Conclusion
The Bear Showdown is designed to be a simple, affordable compound bow for beginners. It is a very forgiving bow, which will improve accuracy for someone just learning to shoot. More advanced archers would probably prefer a bow that is faster, quieter, and smoother on the draw. While these features could be obtained by adding aftermarket accessories to the Showdown, that approach offsets the affordability of this bow, and intermediate and advanced archers may want to simply buy a bow with those features. However, if you are looking for a solid, no-frills, forgiving bow, then the Bear Showdown is an excellent choice.
Video Review
Specifications for the Bear bow: Showdown
| | |
| --- | --- |
| Brace Height | 8.75 " |
| Axle to Axle Length | 31.75 " |
| Draw Length | 25 " – 31 " |
| Draw Weight | 50 lbs – 70 lbs |
| IBO Speed | 286 fps – 290 fps |
| Weight | 3.8 lbs |
| Let-Off | 80% |
3 quick questions about Bear Showdown
🏹 Are Bear Showdown bows any good?
It is an older bow, but still pretty good.
🏹 How much does a Bear Showdown bow cost?
You'll have to find it used, so et depends.
🏹 What type of bow is a Bear Showdown bow?
Good and affordable compound bow for beginners.
More about bows online
Bear bows for sale
The bow certainly resembles a Hoyt with its distinctive riser design. It also comes in a number of finishes with the most popular finishes being RealTree Xtra camo as well as shadow, sand and olive. Bear's whitetail hunter compound bow is quite a versatile bow that is chiefly liked and used by the hunters due to its attractive capabilities.
[collapse]
https://arrows2bows.com/wp-content/uploads/2019/12/1-300x138.png
0
0
superadmin
https://arrows2bows.com/wp-content/uploads/2019/12/1-300x138.png
superadmin
2019-12-03 12:09:59
2020-01-05 15:36:34
Bear Showdown Compound Bow