Compare Bear Siren Compound Bow with other bows: See other Compound bows for sale
Bear Siren bow for sale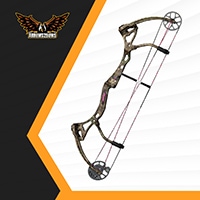 Brace Height: 6.75 "
Axle to Axle Length: 31 "
Draw Length: 22 " - 27 "
Draw Weight: 30 lbs - 60 lbs
IBO Speed: 300 fps
Weight: 3.8 lbs
Siren reviews
The Bear Archery Siren is their top-of-the-line compound bow for female archers. It was designed with the input of female hunters, and has been field tested by female bowhunters. It's a serious bow for women who know what they need in a bow.
Overview
The Siren is more than just a compound bow with pink accents. It has been recognized as the Official Bow of Realtree Girl, and has everything a female hunter is looking for in a bow. It is available in Realtree APG and Shadow/black colors.
The Bear Siren has a single FH cam with a rotating module that allows draw lengths to be changed without changing cams or using a bow press. The FH cam was specifically designed to deliver high performance at shorter draw lengths, suitable for women's proportions.
With the 6.75 brace height, this is a very fast bow. The ISO speed was measured at a Siren-specific 27 inch draw, 60 pounds of weight, and a 300 grain arrow. When measured with standard specs, it actually delivers 333fps, proving the power of the FH cam. It has Bear's proven Max Pre-Load Quad Limbs with the Zero Tolerance Limb pockets for great stability and quietness. It also has dual offset adjustable string suppressors, and a stabilizer bushing. It has a little hand shock in the shot, but a spacious valley and good letoff for accuracy.
Pros
Compact and lightweight
Quiet and low vibration
Faster than expected
Good range of adjustments
Smooth and balanced during the shot
Cons
Sliding cable guard isn't as smooth as a roller guard
Grip is scaled for women's hands, but doesn't insulate from cold temperatures
Conclusion
The Bear Siren is a bow designed for women who have archery experience and know what they need in a bow. It's fast, quiet, and powerful. The short brace height and powerful cam make this bow better for an experienced archer, and it's not designed for young people or beginners. For serious female hunters, it's great to have a bow that takes their performance seriously as well, and delivers what women are looking for in size, scale and power.
Video Review
Specifications for the Bear bow: Siren
| | |
| --- | --- |
| Brace Height | 6.75 " |
| Axle to Axle Length | 31 " |
| Draw Length | 22 " – 27 " |
| Draw Weight | 30 lbs – 60 lbs |
| IBO Speed | 300 fps |
| Weight | 3.8 lbs |
| Let-Off | 75% |
3 quick questions about Bear Siren
Are Bear Siren bows made in America?
How much does a Bear Siren bow cost?
What type of bow is a Bear Siren bow?
More about bows online
Bear bows for sale
The bow certainly resembles a Hoyt with its distinctive riser design. It also comes in a number of finishes with the most popular finishes being RealTree Xtra camo as well as shadow, sand and olive. Bear's whitetail hunter compound bow is quite a versatile bow that is chiefly liked and used by the hunters due to its attractive capabilities.
[collapse]
https://arrows2bows.com/wp-content/uploads/2019/12/1-300x138.png
0
0
superadmin
https://arrows2bows.com/wp-content/uploads/2019/12/1-300x138.png
superadmin
2019-12-03 12:09:59
2020-01-05 15:40:46
Bear Siren Compound Bow