Compare Bear Truth 2 Compound Bow with other bows: See other Compound bows for sale
Bear Truth 2 bow for sale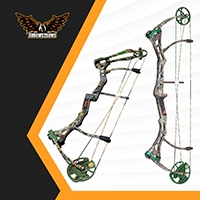 Brace Height: 7 "
Axle to Axle Length: 33 "
Draw Length: 24 " - 30 "
Draw Weight: 40 lbs - 70 lbs
IBO Speed: 314 fps - 318 fps
Weight: 3,9 lbs
Truth 2 reviews
The Truth was a collaboration between Bear Archery and Will Primos, and one of the early bows that helped to establish the company's reputation for delivering highly effective bows at an affordable price. The Truth was so successful that a couple years later, Bear updated it and reissued the Truth 2, with some important upgrades.
Overview
The Bear Truth 2 has very similar specs to the original Truth compound bow, but with some advances that make it faster, quieter, and lighter in weight than its predecessor. The riser is still made of machined aircraft aluminum for strength, durability, and less weight.
It still has the Perimeter-Weighted Modular Single Cam that made the original Truth so smooth and easy to shoot. You can adjust the draw length without using a bow press for draw lengths from 27-30 inches; below that you do need a bow press. It has updated Flare Quad Limbs designed to equalize stress for improved durability, and a design that reduces shock, noise, and vibration by transmitting energy directly to the arrow, and cancelling out excess energy.
The Truth 2 also has Dual Arc String Suppressors that also reduce vibration, making this bow virtually silent. The grip was updated in the Truth 2, to a slim synthetic grip that proves great comfort and temperature protection. With the 7-inch brace height and 80% let-off, it's a comfortable shooting bow with good forgiveness. 
Pros
Extremely smooth throughout the draw cycle
Virtually silent, with no shock and almost no vibration
Easy to use, maintain, and adjust
Very good accuracy and forgiveness
Cons
String suppressors may not be very durable
Many archers wished for more speed with the re-release
Conclusion
The Bear Truth 2 is a no-brainer for fans of the original Truth. For a bow with practically the same specs, they get reduced weight, improved limbs, and a much quieter bow. The Truth 2 also has a few more fps than the original Truth, but some hunters do wish for a faster bow. As it is, the Bear Truth 2 is comfortable, smooth to shoot, accurate, and easy to adjust and maintain. It's a great update to a great bow.
Video Review
Specifications for the Bear bow: Truth 2
| | |
| --- | --- |
| Brace Height | 7 " |
| Axle to Axle Length | 33 " |
| Draw Length | 24 " – 30 " |
| Draw Weight | 40 lbs – 70 lbs |
| IBO Speed | 314 fps – 318 fps |
| Weight | 3,9 lbs |
| Let-Off | 80% |
3 quick questions about Bear Truth 2
🏹 How much does a Bear Truth 2 bow cost?
This is an older bow, so you might be able to find a cheap bow for sale.
🏹 Do you need a license to own a Bear Truth 2 bow?
No
More about bows online
Bear bows for sale
The bow certainly resembles a Hoyt with its distinctive riser design. It also comes in a number of finishes with the most popular finishes being RealTree Xtra camo as well as shadow, sand and olive. Bear's whitetail hunter compound bow is quite a versatile bow that is chiefly liked and used by the hunters due to its attractive capabilities.
[collapse]
https://arrows2bows.com/wp-content/uploads/2019/12/1-300x138.png
0
0
superadmin
https://arrows2bows.com/wp-content/uploads/2019/12/1-300x138.png
superadmin
2019-12-03 12:10:00
2020-01-06 11:26:32
Bear Truth 2 Compound Bow