Compare Bear Venue Compound Bow with other bows: See other Compound bows for sale
Bear Venue bow for sale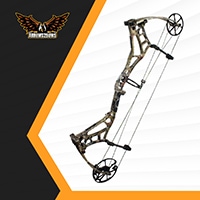 Brace Height: 7 "
Axle to Axle Length: 32.25 "
Draw Length: 24 " - 31 "
Draw Weight: 40 lbs - 70 lbs
IBO Speed: 330 fps
Weight: 4.0 lbs
Venue reviews
The Venue was Bear Archery's flagship compound bow in 2014, and these models are always the proving ground for new Bear innovations and technologies, as they continue to explore new materials, new techniques, and new ways to make their bows the most advanced on earth. The Venue is a superbly well-rounded bow and an absolute pleasure to shoot, and remains a favorite today. 
Overview
The Bear Venue has rubber inserts on the riser, just one of the many sound and vibration-suppressing features of this bow. The hinged cable guard reduces load on the riser and improves durability and efficiency.
It has an S13 single cam with a rotating cam module that allows you to change the draw length without special tools or a drill press. Single cam bows are easier to tune and require less tuning over time, making them easier to use and more reliable than hybrid cam systems.
The Venue has Max Preloaded Quad Limbs, and Zero Tolerance Limb Pockets for great stability. It has bi-dimensional offset dual string suppressors that are adjustable to your preference. It has a slim grip on the riser, with a removable rubber grip for more padding and thermal protection.
The draw cycle on the Venue is so smooth and transition-free, and the wall so solid with the high let-off, that some archers find that they can manage a higher draw weight with the Venue than with other bows. The 7-inch brace height is comfortable and forgiving.
Pros
"Dead" bow, with no shock, vibration, or sound
Incredibly smooth in the draw cycle
Rock solid wall with high let-off
Good speed
Cons
Limited range of colors (Realtree Xtra Green camo or Shadow/black)
Some people want to upgrade the factory strings, which is unfortunate in a bow at this price point
Conclusion
The Venue may not have extraordinary specs, but it's a bow that is absolutely irresistible once you shoot it. It's silky smooth in the draw, solid at the wall, forgiving, and dead quiet in the hand. While 330fps isn't the fastest hunting bow in the market, it still delivers plenty of power along with pure pleasure.
Video Review
Specifications for the Bear bow: Venue
| | |
| --- | --- |
| Brace Height | 7 " |
| Axle to Axle Length | 32.25 " |
| Draw Length | 24 " – 31 " |
| Draw Weight | 40 lbs – 70 lbs |
| IBO Speed | 330 fps |
| Weight | 4.0 lbs |
| Let-Off | 80% |
3 quick questions about Bear Venue
🏹 Are Bear Venue bows any good?
Made in 2014, but still a great compound bow!
🏹 Who owns Bear Venue bows?
In 2003 Escalade Sports acquired the North American Archery Group and currently does business as Bear Archery Inc.
🏹 What type of bow is a Bear Venue bow?
This is a great compound bow. It's silky smooth in the draw, solid at the wall, forgiving, and dead quiet in the hand.
More about bows online
Bear bows for sale
The bow certainly resembles a Hoyt with its distinctive riser design. It also comes in a number of finishes with the most popular finishes being RealTree Xtra camo as well as shadow, sand and olive. Bear's whitetail hunter compound bow is quite a versatile bow that is chiefly liked and used by the hunters due to its attractive capabilities.
[collapse]
https://arrows2bows.com/wp-content/uploads/2019/12/1-300x138.png
0
0
superadmin
https://arrows2bows.com/wp-content/uploads/2019/12/1-300x138.png
superadmin
2020-01-07 09:10:00
2020-01-07 09:11:59
Bear Venue Compound Bow