Compare Bear LS2 Compound Bow with other bows: See other Compound bows for sale
Bear LS2 bow for sale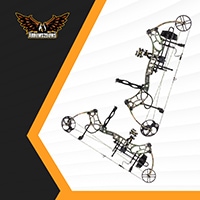 Brace Height: 6.75 "
Axle to Axle Length: 31.125 "
Draw Length: 23 " - 30 "
Draw Weight: 50 lbs - 70 lbs
IBO Speed: 320 fps
Weight: 4 lbs
LS2 reviews
Bear has been a dominating company in the hunting industry and has made quite a name for itself with its compound bows. One such impressive bow is the Bear LS2 compound bow. If you've been struggling with finding the best bow for yourself, this is a great model to consider.
Things to consider before buying
This new line of exclusive bows from Bear has upped the ante for performance. They are smooth, Ready-to-Shoot bows that provide the best value for money. Here are some of the notable features of the LS2 to help you decide if it's the best compound bow for you:
Camo Finish
This bow features a camo finish that looks great and blends effectively in every hunting situation. The combination of the smooth draw and quiet performance gives this bow an edge over the other bows available. 
Fast and quiet
The LS2 is a remarkable bow that is unbelievably quiet and fast. It is able to deliver a speed of 320 fps, thus enabling users to react as quickly as their target. It is equipped with Hunt Trophy Ridge accessories, which further enhance its performance.   
Precision
The Bear LS2 compound bow is designed with EnduraFiber Quad limbs that give shooters lethal and controlled maximum power. The BearTrap zero tolerance limb pockets ensure accurate locked-in fit. Moreover, its advanced grip design is not only comfortable but also provides enhanced accuracy.
Pros
Durably built and exceptional speed
DrawDial module for a comfortable feel and wide range of draw length adjustments
Smooth cams enable draw length adjustment without the help of a bow press
Performs great as a hunting bow
Cons
Limited finish options
Not as fast as other Bear bows
Final thoughts
If you want a high-end hunting bow that is well-equipped, but doesn't carry a big price tag, then the LS2 is for you. It is fast and accurate and will definitely help shooters enjoy a great hunting experience. It offers a high degree of forgiveness without putting a burden on your pocket. 
Video Review
Specifications for the Bear bow: LS2
| | |
| --- | --- |
| Brace Height | 6.75 " |
| Axle to Axle Length | 31.125 " |
| Draw Length | 23 " – 30 " |
| Draw Weight | 50 lbs – 70 lbs |
| IBO Speed | 320 fps |
| Weight | 4 lbs |
| Let-Off | 80% |
3 quick questions about Bear LS2
Who owns Bear LS2 bows?
Bear Archery is owned by Escalade Sports.
More about bows online
Bear bows for sale
The bow certainly resembles a Hoyt with its distinctive riser design. It also comes in a number of finishes with the most popular finishes being RealTree Xtra camo as well as shadow, sand and olive. Bear's whitetail hunter compound bow is quite a versatile bow that is chiefly liked and used by the hunters due to its attractive capabilities.
[collapse]
https://arrows2bows.com/wp-content/uploads/2019/12/1-300x138.png
0
0
superadmin
https://arrows2bows.com/wp-content/uploads/2019/12/1-300x138.png
superadmin
2020-02-02 12:09:00
2020-02-02 16:23:13
Bear LS2 Compound Bow