Compare Bear LS4 Compound Bow with other bows: See other Compound bows for sale
Bear LS4 bow for sale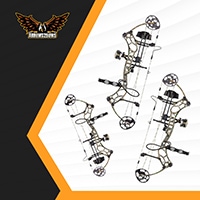 Brace Height: 6.25 "
Axle to Axle Length: 32.25 "
Draw Length: 25 " - 30 "
Draw Weight: 50 lbs - 70 lbs
IBO Speed: 330 fps
Weight: 4 lbs
LS4 reviews
As an avid shooter, you might feel that hunting is in your blood. In fact, you might even have a big collection of bows at home. If you're looking to add one more bow to your collection, look no further than the Bear LS4 compound bow. With its superior silent performance and easy-to-manage draw, this bow can help you become an excellent shooter. 
Things to consider before buying
The Bear LS4 is the epitome of speed and superior shootability. It comes with Trophy Ridge accessories that further enhance the shooting experience. We have listed some notable features so that you can decide if this bow is right for you:  
Budget-friendly option
This bow is best for people who are on a budget or those who are just starting at archery. It is a compact model that provides shooters with fast and accurate shots, thus helping them improve their game immensely. When you compare feature-to-feature with any other expensive bow available, you will realize that this bow has taken performance over price to a whole new level.
ES hybrid cam system
The ES hybrid cam system ensures a pleasurable shooting experience. Together with DrawDial modules, these bows offer maximum efficiency, high speed, and a comfortable feel.
Strong limbs
Designed with the BearTrap limb pockets, the LS4 is not only comfortable but also eliminates any movement when drawn. This reduced vibration ensures an accurate and quick shot.
Pros
Strong riser that keeps the vibrations to a minimum
Comfortable grip with a consistent design from top to bottom
ES hybrid cams deliver a speed of 330 fps
Quiet performance with a manageable draw cycle
Cons
Does not offer shooters a lot of color choices
Does not come as a barebow
Final thoughts
The Bear LS4 is a lightweight and balanced bow that is loaded with many innovative features. This versatile product is a perfect combination of shootability and speed. It is a great hunting bow that delivers excellent performance, similar to the expensive bows without upsetting the budget. Its highly functional riser and ergonomic design make shooting a highly pleasurable venture.
Video Review
Specifications for the Bear bow: LS4
| | |
| --- | --- |
| Brace Height | 6.25 " |
| Axle to Axle Length | 32.25 " |
| Draw Length | 25 " – 30 " |
| Draw Weight | 50 lbs – 70 lbs |
| IBO Speed | 330 fps |
| Weight | 4 lbs |
| Let-Off | 80% |
3 quick questions about Bear LS4
🏹 Who owns Bear LS4 bows?
Escalade Sports
🏹 Do you need a license to own a Bear LS4 bow?
No
More about bows online
Bear bows for sale
The bow certainly resembles a Hoyt with its distinctive riser design. It also comes in a number of finishes with the most popular finishes being RealTree Xtra camo as well as shadow, sand and olive. Bear's whitetail hunter compound bow is quite a versatile bow that is chiefly liked and used by the hunters due to its attractive capabilities.
[collapse]
https://arrows2bows.com/wp-content/uploads/2019/12/1-300x138.png
0
0
superadmin
https://arrows2bows.com/wp-content/uploads/2019/12/1-300x138.png
superadmin
2020-02-02 12:09:00
2020-02-02 16:29:00
Bear LS4 Compound Bow