Compare Bear Legion Compound Bow with other bows: See other Compound bows for sale
Bear Legion bow for sale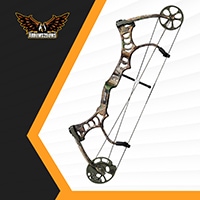 Brace Height: 7 "
Axle to Axle Length: 30.5 "
Draw Length: 26 " - 31 "
Draw Weight: 40 lbs - 70 lbs
IBO Speed: 318 fps
Weight: 4.0 lbs
Legion reviews
When many take up archery, they are under the impression that in order to become an ace shooter, they need to invest in an expensive compound bow. But after using the Bear Legion compound bow, all such impressions and misconceptions will surely go away. Although economical, this compound bow is in no way inferior in performance to the other expensive bows available.
Things to consider before buying
If you want a high quality, compact, and fast rig, then the Bear Legion is perfect for you. Its low price tag has made it very popular among shooters who are on a budget, but don't want to compromise on performance. The following considerations will help you realize if this is the bow for you:
Zero Tolerance Limb Pockets
The limbs of the Bear Legion are constructed with composite materials that make them durable, lightweight, and powerful. They are locked in place with Zero Tolerance Limb Pockets, Bear's innovative system, which not only provides precision and consistency, but also eliminates shot vibrations.
Ergonomic design
The Bear Legion is constructed with aircraft-grade aluminum riser and a stainless steel stabilizer mounting. This keeps the bow lightweight while ensuring high torsional stability. The grip, with side plates, enforces proper hand placement, thus giving this bow a comfortable balance and durability.
Dual Arc Offset String Suppressors
The Legion is equipped with dual arc offset string suppressors that help to eliminate noise and deaden string oscillations. These suppressors are optimized and meticulously tested to ensure enhanced noise reduction, without compromising on arrow speed. The presence of an adjustment mechanism also allows you to tune this bow according to your preference.
Pros
Lightweight and deadly bow which can shoot at 318 fps
Axle-to-axle measuring 30.5 inches allows it to handle all hunting situations
Easy to adjust and forgiving, perfect for beginners
Superior finish
Cons
String could be improved
Available in one color only  
Final thoughts
Bear Archery has modified on of their most popular bows, the Strike, to create a faster, more efficient bow. The Legion is designed with a torque reducing slim grip for consistency and superior accuracy while the upgraded string suppressors ensure a quiet, smooth shot. It has proven to be a great performing bow in hunting scenarios as well as target shooting. Moreover, it is easy to adjust and highly forgiving, thus making it suitable even for beginners.
Video Review
Specifications for the Bear bow: Legion
| | |
| --- | --- |
| Brace Height | 7 " |
| Axle to Axle Length | 30.5 " |
| Draw Length | 26 " – 31 " |
| Draw Weight | 40 lbs – 70 lbs |
| IBO Speed | 318 fps |
| Weight | 4.0 lbs |
| Let-Off | 80% |
3 quick questions about Bear Legion
Is Bear Legion bows good for beginners?
Who owns Bear Legion bows?
Do you need a license to own a Bear Legion bow?
More about bows online
Bear bows for sale
The bow certainly resembles a Hoyt with its distinctive riser design. It also comes in a number of finishes with the most popular finishes being RealTree Xtra camo as well as shadow, sand and olive. Bear's whitetail hunter compound bow is quite a versatile bow that is chiefly liked and used by the hunters due to its attractive capabilities.
[collapse]
https://arrows2bows.com/wp-content/uploads/2019/12/1-300x138.png
0
0
superadmin
https://arrows2bows.com/wp-content/uploads/2019/12/1-300x138.png
superadmin
2020-02-02 12:09:00
2020-02-02 16:20:16
Bear Legion Compound Bow